Changing process of bio-diesel production would help reduce emission of dangerous nanoparticles: TERI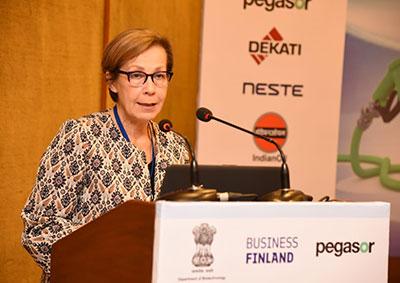 Airborne nanoparticles from diesel vehicles are even more harmful to human health than PM2.5 and PM10. TERI has suggested modifications to India's bio-diesel policy to reduce nanoparticle emissions
New Delhi, December 3: Changing the process of producing bio-diesel could help reduce tailpipe emissions of nanoparticles, contributing to improving air quality, according to a collaborative study by The Energy and Resources Institute (TERI), the Finnish Meteorological Institute, and Tampere University, Finland.
The findings were shared at the Indo-Finnish collaborative conference on 'Opportunities with Biofuel: Co-benefit of Air Quality Improvement', organised by TERI at the India Habitat Centre today. A position paper carrying the detailed findings, titled 'Opportunities to Address Air Pollution with Transport Biofuel', was released at the conference, which was attended by Her Excellency Ritva Koukku-Ronde, Finland's Ambassador to India, apart from Dr Reji Mathai, General Manager, IOCL Research and Development Centre, Faridabad, and others.
The study also suggested possible modifications in the Biofuel Policy of India to address the tailpipe emission of nanoparticles, based on case studies from India and Finland.
"We felt the issue of nanoparticles was not on the focus of scientists and policymakers… Biofuels provide us with energy security and have a huge benefit in air quality, but there are also challenges in the kinds of biofuels that we use," said Dr Ajay Mathur, Director General, TERI, in his address at the event.
"We should take the advantage of bringing biofuels in, but do it in a manner that makes sure we do not inject a greater degree of environmental hazard into our lives. This would have technical and policy ramifications. Looking at the kind of technical specs we have and the changes in biofuel policy together could help us move ahead in a manner that synergises benefits and minimises, or hopefully eliminates, the additional vulnerabilities created," he added.
The National Biofuel Policy aims to blend about 7% to 8% of FAME bio-fuels with diesel through esterification/transesterification process. While this helps reduce the tailpipe emissions of particulate matter, it increases the nanoparticle emissions in the atmosphere. Airborne nanoparticles (lesser than 200 nm) from diesel-powered vehicles are more harmful to human health than fine particulates (including PM2.5 and PM10). These nanoparticles can cross the blood-air barrier in lungs, and also easily penetrate animal and plant cells, causing unknown long-term effects. At present, there is no regulation in India related to nanoparticle emissions. There is also a scarcity of studies to inform such potential regulations.
TERI, supported by the Department of Biotechnology (DBT) of GoI, and the Finnish research collaboration have found that the hydrodecarboxylation process of producing bio-diesel helps reduce tailpipe emission of such particles. This process requires hydrogen and a suitable catalyst. However, clean, non fossil fuel-based production of hydrogen remains a challenge. TERI has developed a pilot scale process for hydrogen production in 1m3 scale from sugarcane black strap molasses and lignoclelulosic agricultural residue biomass.
It is also carrying forward research explorations in hydrogen production from next generation feedstock under the DBT-TERI Centre of Excellence programme on Integrated Production of Advanced Biofuels and Biocommodities (ProBio). The team is engaged in exploration of new second and third generation feedstock for hydrogen production from biological sources. Invasive plant species water hyacinth (Eichhornia sp.) and aquatic ferns such as 'Azolla', apart from corn cob have been identified as having good potential for hydrogen production from biological sources.
The number of registered vehicle in India has increased from 54 million in 2001 to 230 million in 2016. Diesel alone meets an estimated 72% of transport fuel demand (MoSPI, 2018) in India. The Government of India has identified biofuel as one of the potential thrust areas to safeguard energy security and reduce dependency on imported crude oil. Studies around the world have reported a reduction in tailpipe emission from diesel vehicles with 20% blended diesel as compared to conventional diesel.
In her address at the event, Ambassador Koukku-Ronde said that Finns enjoy the cleanest air in the world. However, she added, "Apart from global warming, cities across the world are struggling with air pollution. According to various studies recently, the impact of air pollution on human health is far more dangerous than previously thought."
"Addressing climate change and air pollution is a huge challenge and a huge opportunity. These problems can only be tackled by working together," she said, adding that the Finland foreign ministry was proud to have supported this project.
About TERI
The Energy and Resources Institute (TERI) is an independent, multi-dimensional organisation, with capabilities in research, policy, consultancy and implementation. It has pioneered conversations and action in the energy, environment, climate change, and sustainability space for over four decades.
The institute's research and research-based solutions have had a transformative impact on industry and communities. Headquartered in New Delhi, it has regional centres and campuses in Gurugram, Bengaluru, Guwahati, Mumbai, Panaji, and Nainital, supported by a multidisciplinary team of scientists, sociologists, economists and engineers, and state-of-the-art infrastructure.
For further information, contact:
TERI – Aastha Manocha: aastha.manocha@teri.res.in
Edelman – Rakhi Aurora: rakhi.aurora@edelman.com