Just Transition – Planning For A Post Coal Future
Mr Souvik Bhattacharjya
Online
The event will include a panel discussion and the launch of two working papers prepared by TERI on Just Transition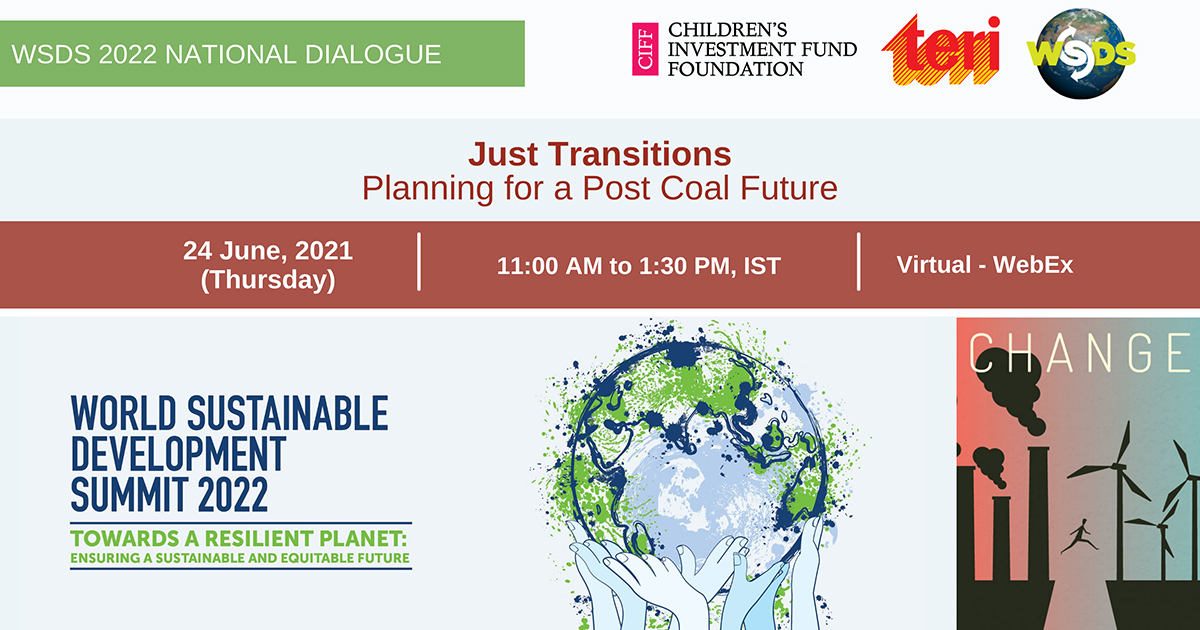 On 24th June 2021, 11:00 AM - 01:30 PM IST
With support from Children's Investment Fund Foundation (CIFF), The Energy and Resources Institute (TERI) is organising a webinar on "Just Transition – Planning For A Post Coal Future" on 24th June 2021, 11 am - 1:30 pm (IST).
The event will include a panel discussion and the launch of two working papers prepared by TERI on Just Transition.
This webinar will specifically discuss and examine the opportunities and challenges associated with Just Transition in India. The notion of Just Transition is rooted in the principles of 'environmental justice' wherein the transition from a fossil fuel-based infrastructure to a sustainable infrastructure must be just and equitable for everyone who is a part of it. Their seamless transition from a skills aspect, moving from a fossil fuel sector to a sustainable development sector, will in many ways define the future of India's energy movement. Thus, there is a need for creation of a mechanism which can help in the identification of all the possible conflicts and a pathway that will lead to an acceptable outcome for all the key stakeholders.
The event will be livestreamed here https://youtu.be/AO1hJ8KBvU0