A boon for oil industry
An innovation by TERI has all the makings of a grand Hollywood motion picture. The plot revolves around a mammoth oil tanker that leaks, causing great catastrophe. There are shots of the carnage on television sea birds and fish washed ashore, their bodies sodden with crude oil. Amidst all the chaos, only one man the protagonist, of course knows what to do. He has Oilzapper, a bacterial consortium that degrades crude oil and oily sludge. The rest is a join-thedots game.
A clean innovation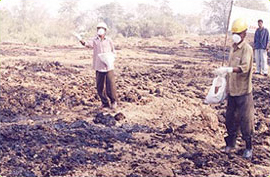 This is not about a movie script but a real achievement the Oilzapper. Developed by TERI after seven years of research work and partly supported by the DBT (Department of Biotechnology), Ministry of Science and Technology, Government of India, the Oilzapper is essentially a cocktail of five different bacterial strains that are immobilized and mixed with a carrier material (powdered corncob).
Much as its savvy name suggests, the Oilzapper feeds on hydrocarbon compounds present in crude oil and oily sludge (a hazardous hydrocarbon waste generated by oil refineries) and converts them into harmless CO2 and water. The Oilzapper is neatly packed into sterile polythene bags and sealed aseptically for safe transport. The shelf life of the product is three months at ambient temperature.
The scientific term for the abovementioned process is bioremediation. Bio refers to living and remediate means to fix or cure. It is a branch of biotechnology that makes use of living organisms to reduce or eliminate environmental hazards resulting from accumulation of toxic chemicals, or hazardous waste. A first-of-its-kind solution, Oilzapper's uniqueness lies in the bio-friendly manner in which it detoxifies oily sludges and cleans up oil slicks.
The story so far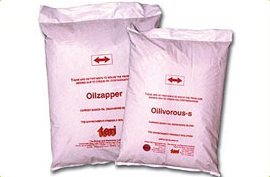 One of the biggest and most frequent threats for any oil refinery is oil sludge. There are 16 refineries in India and all create toxic waste. Estimates suggest that about 20 000 tonnes of petroleum sludge is generated every year. At present, refineries have to construct polymer-lined pits with a special leachate collection system to prevent the dumped sludge from leaking into the earth and groundwater. A pit costs about 10 million rupees and each refinery needs several such pits. With more refineries being set up, space is always a constraint. What's more, a pit gets filled up in three to four years whereas with Oilzapper, one just needs 200 tonnes of environment-friendly bacteria to clean up 20 000 tonnes of oily waste!
When an oil spill occurs at sea, oil floats above water since it is lighter. It therefore catches fire swiftly, endangering the ecosystem for all times. Oil spills on land (due to leakage from pipelines, pilferage, etc.) too cause fire hazards and pollute groundwater and air. With Oilzapper, a contamination of 20% (say, 200 grams per kilogram of oil) can be taken care of in two months. A blessing for the oil exploration and production sites and oil refineries, the Oilzapper has proven particularly relevant in the wake of the everincreasing movement of oil across land and water, the many oil-transport related accidents in the past and oilwaste management issues at the refineries.
Cleaning up the mess
The good news is that more than 5000 hectares of cropland contaminated with crude oil spills has already been reclaimed in different parts of India and more than 26 000 tonnes of oily sludge successfully treated with Oilzapper. Many oil-slick contaminated lakes in the north-eastern parts of India have also been cleaned up in two years. Table 1 provides details of the amount of oily sludge treated in India.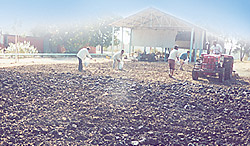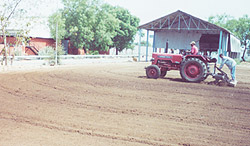 Zapping oil - where and how much?
| | |
| --- | --- |
| Refinery/ Oil installation site | Quantity of sludge treated (tonnes) |
| Indian Oil Corporation Ltd. |   |
| - Mathura | 3750 |
| - Barauni | 11400 |
| - Digboi | 1000 |
| - Guwahati | 80 |
| - Gujarat | 1650 |
| - Haldia | 3500 |
| - Kanpur | 50 |
| Bharat Petroleum Corporation Ltd., Mumba, Hindustan Petroleum Corporation Ltd. | 300 |
| Visakhapatnam | 2350 |
| Oil India Ltd., Duliajan | 700 |
| Reliance Refinery, Jamnagar | 20 |
| Indian Petrochemicals Ltd., Nagothane | 50 |
| Hindustan Petroleum Corporation Ltd., Panipat | 10 |
| Hindustan Petroleum Corporation Ltd., Kandla | 100 |
| Indian Oil Corporation Ltd., Rajkot | 350 |
| Oil and Natural Gas Corporation Ltd. |   |
| - Jorhat | 200 |
| - Mehsana | 370 |
| - Nazira | 250 |
| - Sanatnagar | 20 |
| Total | 26150 |
Beneficiaries
Oilzapper has elicited tremendous response in India and abroad. The BPCL (Bharat Petroleum Corporation Ltd), the IOCL (Indian Oil Corporation Ltd), the ONGC (Oil and Natural Gas Corporation), the OIL (Oil India Ltd), the HPCL (Hindustan Petroleum Corporation Ltd), and the RIL (Reliance Industries Ltd) are some of its consumers (Table 1).
The know-how of Oilzapper technology has been shared with BPCL, Mumbai, for their internal use but it is marketed by TERI, New Delhi. Oilivorous-S (Box 1), on the other hand, was jointly developed by TERI's microbial biotechnology laboratory and the R&D Centre of the IOCL, New Delhi. It is marketed by both the organizations.
Snapping up oil and awards
All in the family-Oilzapper and Oilivorous-S
The name 'Oilivorous-S' suggests an affinity to 'Oilzapper'. Yes, they belong to the same family of oily sludge-degrading consortia of microbes. What makes Oilivorous-S a tad different from Oilzapper is an additional bacterial strain that makes the former more effective against sludge and crude oil with high-sulphur content.
The Oilzapper and Oilivorous-S have not just snapped up wasted oil but also several eminent scientific awards in India and outside like the All India Biotech Association Award 2001, given by the All India Biotech Association, New Delhi; the Biotech Product & Process Development for Commercialization Award 2002 by the DBT, Government of India; the Jawaharlal Nehru Memorial National Gold Medal Award 2002 for excellence in Environmental Biotechnology Research by the International Greenland Society, Hyderabad; and the Best Paper Oral Presentation award in the 5th International Petroleum Conference and Exhibition (PETRO-TECH 2003) organized by the Oil and Natural Gas Corporation Ltd, India; the National Petroleum Management Programme Award 2002/03 for Creativity and Innovation in the R&D category by the Ministry of Petroleum and Natural Gas, Government of India; and the Burhani Foundation-NEERI Award 2002 by the National Environmental Engineering Research Institute, Nagpur. A cheap-and-quick solution to one of the most menacing environmental issues sure deserves these accolades.
Applications/benefits
Among all the other advantages these technologies offer, two crucial ones stand out. First, both Oilzapper and Oilivorous-S can be used in situ, thereby eliminating the need to transfer large quantities of contaminated waste from the site, a process that poses more threats to the environment. Secondly, the solution is complete in itself contaminants are not merely transferred from one environmental medium to another (from water to air or land) but destroyed.
Moreover, bioremediation is far more cost-effective than other technologies used to clean up hazardous waste Oilzapper/Oilivorous-S work out 30% cheaper than the conventional physico-chemical treatments.