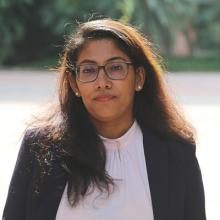 Dr Richa Sharma
Area Convenor, Environment and Health Assessment
Dr Richa Sharma is engaged with the Air Quality Research Division of TERI as a Fellow. She is also the Area Convener of TERI's Environment and Health Assessment Area. At TERI she is currently heading the work at intersections of environment and health including climate change and health issues.
She has experience working on various WHO and UNDP projects including research projects such as the WHO Research Subcommittee Report on the global climate change and health research as well as Government of India projects under the National Action Plan on Climate Change and Human Health.
Dr. Sharma has completed her Masters and PhD in Environmental Sciences from TERI SAS in 2014 and pursued her postdoctoral research at RMA Unit in VITO, Belgium.
Email: richa.sharma@teri.res.in