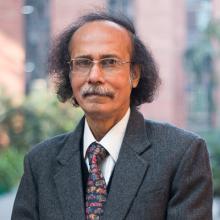 Dr Syamal Kumar Sarkar
Distinguished Fellow, Natural Resource & Climate
Dr S K Sarkar is engaged with the Water Resources Division of The Energy and Resources Institute as a Distinguished Fellow and Advisor. He has been associated with TERI since 1998.
An expert of water resource management and infrastructure regulation, Dr Sarkar is a retired IAS officer with over 35 years of experience in formulating and implementing public policies. Prior to his stint at TERI, Dr Sarkar served as Secretary to the Government of India, Ministry of Water Resources. Additionally, he was a Member Secretary in the West Bengal Pollution Control Board under State Environment Department and worked towards formulating policies on plastic waste management.
Dr Sarkar holds a Doctorate in Economics (1991) from the State University of New York, Stony Brook, New York.
Email: sk.sarkar@teri.res.in