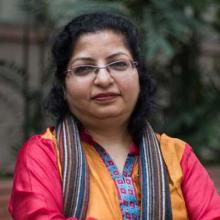 Ms Suruchi Bhadwal
Director, Earth Science and Climate Change
Ms Bhadwal leads research activities in the area of climate change, focusing mainly on impacts, vulnerability and adaptation assessments and works in close association with communities.  

She has been with TERI since October 2000 and has contributed to several projects. Some of the key projects she has worked on include a study on vulnerability to climate change in the Indian agricultural sector in the context of economic globalization, (supported by CIDA and the Government of Norway), contributions to India's first and second national communications submitted to the UNFCCC and World Bank supported study on vulnerability to climate variability and change through an assessment of issues and options for adaptation.  

Ms Bhadwal is also listed as a UNDP regional roster of expert on vulnerability and adaptation. Furthermore, she has been identified as a Member by the Planning Commission as part of a Working Group on Climate Change and Environment for the XIIth V Year Plan (2012-2017). She has also been closely associated with the International Human Dimensions Programme attending numerous open meetings and Institutes organised by them. At COP events she has been actively involved, as an observer, organizer and contributor.  

She was a Lead Author in the IPCC WG 2 AR 4 report. She was a Review Editor for the IPCC AR5 WG II Report and the IPCC Special Report on Extreme Events. She is also the Lead Author in the recent IPCC AR 6 WG II Report to be released contributing to the chapter on Key Risks.   

Ms Bhadwal has a Masters in Environmental Sciences from Hissar in Haryana.
Email: suruchib@teri.res.in