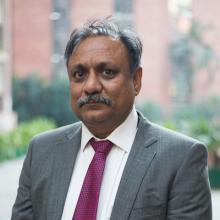 Dr Suneel Pandey
Director, Environment & Waste Management
Dr Suneel Pandey is engaged with the Environment and Waste Management Division of The Energy and Resources Institute (TERI) as its Director. He is also an Adjunct Faculty at the TERI School of Advanced Studies.
An expert in municipal, industrial and hospital waste management with over 30 years of research and consultancy experience, Dr Pandey's areas of expertise include air, water and soil quality monitoring, site assessments, and the performance evaluation of effluent treatment plants (ETPs).
He is also the Chairman on the expert committee on circular economy in e-waste management constituted by the Ministry of Electronics and Information Technology Prior to his stint at TERI, Dr Pandey served as a Consultant for ERM India on projects related to hazardous and hospital waste management, environmental site assessments and institutional strengthening and capacity building.
A post graduate in Analytical Chemistry from the Banaras Hindu University, Dr Pandey also holds a doctorate in hazardous waste characterization from Nagpur University.
Email: spandey@teri.res.in