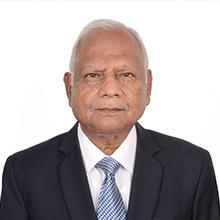 Mr Shri Prakash
Distinguished Fellow, Transport & Urban Governance
Mr Shri Prakash joined TERI in July 2011 as Distinguished Fellow, after a long and distinguished career in Indian Railways. His association with TERI goes back to 2003-2004 as a Visiting Senior Fellow.
For over 9 years he is guiding research in sustainable transport policies in Centre for Research in Sustainable Mobility in TERI. The main research areas currently pursued in the Centre is urban transport, electric mobility particularly on freight transport and smaller and intermediate passenger electric vehicles, modal shift from road to rail as India has a robust rail network, transport modelling and forecasting etc. Concurrently, he is a Professor in Sustainable Mobility in TERI School of Advanced Studies since 2014. He is also Director of Public Policy and Sustainability Programme organised for senior civil servants by Government of India in TERI School of Advanced Studies.
His career with the Indian Railways spanned over 37 years where he held numerous key positions in different Zonal Railways and the Railway Board. Mr Prakash retired as Member (Traffic), Indian Railway Board and Secretary to Government of India in December 2009. Upon retirement he was appointed as Chairman, Standing High Powered Committee on Infrastructure Planning, Business Development and Project Monitoring on Indian Railways. During his tenure, the Committee prepared a comprehensive report on future strategies for Indian Railways.
He has held several senior positions in Railway Board and Northern and Eastern Railways. Prior to becoming Member of Railway Board, he was General Manager of Northern Railway, one of the most prominent Railways of India, responsible for about 25 per cent of Passenger traffic of Indian Railways. In earlier tenures in Railway Board, he held the posts of Executive Director Traffic Transportation (M), Executive Director (Statistics & Economics) as well as Executive Director and Team Leader of Project for development of Long-Range Decision Support System in Indian Railways.
He also managed implementation of FOIS on Indian Railways – a comprehensive system to manage freight train operation on Indian Railways as a Chief Administrative Officer.
As Member (Traffic), Mr Prakash was Head of Operations and Business Development Department in Ministry of Railways and responsible for Commercial, Operating & Marketing functions and management of freight and Passenger Business on Indian Railways. In addition, he also held other assignments and was Chairman of various public sector undertakings such as Container Corporation of India (CONCOR), Indian Railway Catering & Tourism Corporation Limited (IRCTC), and Pipavav Railway Corporation Ltd (PRCL) and was also Chairman of the Executive Committee, Centre for Railway Information Systems (CRIS).
Mr Prakash has rich experience in working across Departments and his specializations include Operations, Planning, Information Technology, and Safety besides General Management. He is a Post Graduate in Mathematics and has an additional degree of M.B.A.
Email: shri.prakash@teri.res.in