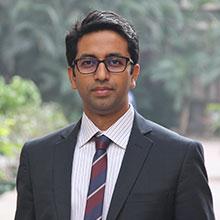 Mr Sharif Qamar
Associate Director, Transport and Urban Governance
Mr Sharif Qamar is engaged with the Transport and Urban Governance Division of The Energy and Resources Institute (TERI) as its Associate Director.
With almost 14 years of experience in research on the transport sector, Mr Qamar has worked on several works projects related to public transportation, long distance and urban freight, EVs, emissions and efficiency improvement policies, and transport modelling. research, policy analysis, and project implementation within the Transport and Urban Governance area. In addition, he is also involved in urban governance related projects - Urban-Act and T-CAP.
Mr Qamar has also worked in projects associated with freights in the railways, national highways sector, inter-model comparison study, urban mass transit, electrification of urban freight, fleet electrification, EV-retrofitment policy, bike taxis, Scope 3 emissions from transport sector, GHG calculator for logistics, greening of ports and shipping, among others.
A postgraduate in Economics from Jamia Millia Islamia, and a China-India Visiting Scholar (CIVS) Fellow from Ashoka University.
Email: Sharif.Qamar@teri.res.in