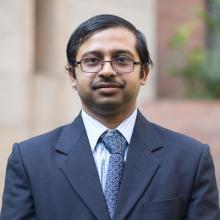 Mr Saswata Chaudhury
Area Convenor, Centre for Integ. Assmt & Modelling
Mr Saswata Chaudhury is currently Fellow and Area Convenor of Integrated Assessment and Modelling Area at The Energy and Resources Institute (TERI), New Delhi. He has an MPhil and master's degree in Economics from Jawaharlal Nehru University, New Delhi. He has previously worked with the Indian Council for Research in International Economic Relations (ICRIER) and National Institute for Public Finance and Policy (NIPFP). His area of interest is impact assessment, modelling and forecasting related to energy, trade, and development.
Along with policy research, he is well versed in data analysis and economic modelling. He has prior experience in CGE analysis and NSS data decoding. He also has wide experience in primary survey and multi-stakeholder approaches to research including working with local communities, private sector, and government officials at all levels including the district and block levels.
He has numerous publications in reputed national and international journals. At TERI, currently, he is working on couple of projects focussing energy demand forecasting and CGE modelling related to energy sector.
Email: saswatac@teri.res.in