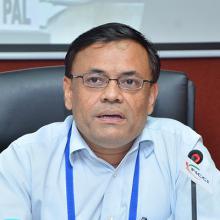 Mr Prosanto Pal
Associate Director, Industrial Energy Efficiency
Mr Prosanto Pal is engaged with the Industrial Energy Efficiency Division of The Energy and Resources Institute (TERI) as its Associate Director. Mr Pal has been associated with TERI since 1993.
An expert in energy efficiency, technology assessment, electrification and fuel-switching, Mr Pal is also proficient in research, development and deployment on low carbon technologies for Micro, Small, and Medium Enterprises (MSMEs), policies, and business models to accelerate the deployment of new technologies in energy intensive industry sectors.
At TERI, Mr Pal has been working on studies related to adoption of low carbon technologies in hard-to-abate industry sectors such as steel and cement, in addition to research on innovative technology transfer models and field-level implementation projects on energy efficient technologies in MSME clusters.
Mr Pal holds a Masters in Manufacturing Systems Engineering from the University of Warwick (Coventry) and another Masters in Process Engineering University of Strathclyde (Glasgow). He pursued his bachelors from the Indian Institute of Technology (Delhi) in Chemical Engineering.
Email: prosanto@teri.res.in