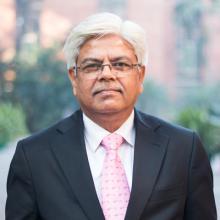 Mr A K Saxena
Senior Director, Electricity and Renewables
Mr A. K. Saxena is engaged with the Electricity and Renewables Division of The Energy and Resources Institute (TERI) as its Senior Director. A veteran of India's power sector with an experience spanning over four decades India his expertise lies in the areas of energy transition, just transition, smart distribution with energy storage, e-mobility, demand side management, smart grids, cross-border electricity trade, and more.
Prior to his stint at TERI, Mr Saxena has worked with the Central Electricity Authority, Ministry of Power, and Central Electricity Regulatory Commission (CERC). He has also served as the Chair/Member/Convenor of Committees set up by CERC and is currently presiding as a Chairperson of the Industry Advisory Board of IIT-Kanpur and La Trobe University Research Academy.
Mr Saxena holds a Master's degree in Electrical Engineering and an Masters in Business Administration. He is also a Fellow of the Institution of Engineers (India) and a member of Institute of Electrical and Electronics Engineers (IEEE).
Email: ak.saxena@teri.res.in