TERI's SDG Charter Dialogue engages with experts on Green Budgeting and Sustainable Lifestyles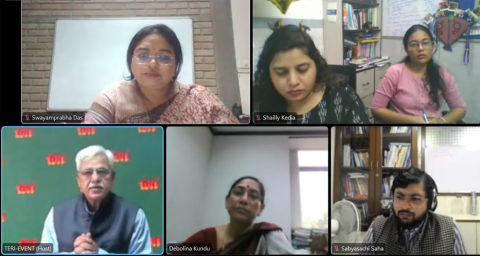 New Delhi, October 31, 2023: In the wake of the recently adopted G20 New Delhi Leaders' Declaration at the G20 Leaders' Summit and the highly-anticipated COP28 scheduled to take place in Dubai, The Energy and Resources Institute (TERI) hosted an engaging Dialogue on Tuesday. This thought-provoking event brought together an esteemed panel of speakers and experts to delve into the critical interplay between Sustainable Development Goals (SDGs) and climate action.
Discussions focused on the effective use of Green Budgeting to advance an action-driven agenda towards achieving sustainable development and climate-sensitive actions.
Emphasis on internationalizing the concept of LiFE through forums such as UNFCCC COPs and United Nations General Assembly
The dialogue was chaired by Mr RR Rashmi, Distinguished Fellow, TERI, and aimed to address questions like the benefits and challenges of green budgeting as a tool for green and climate-sensitive decision-making, the key lessons from emerging practices on green budgeting and harmonizing the existing frameworks to come up with a multidimensional flexible and iterative framework. Mr Rashmi set the stage by underscoring that India's initiation of the LiFE concept has evolved into a pivotal element of the Green Development Pact featured in the G20 New Delhi Leaders' Declaration, and its influence is expected to resonate across various international platforms.
Iterating green budgeting as a powerful tool, Mr K Kalamegam, Environmental Engineer, Department of Science Technology and Environment, Puducherry said, "We are the first Union Territory and federal unit in the country to have tabled a green budget in the main budget session of our legislative assembly. We thank TERI for the collaborative efforts and the research guidance that helped implement the green budget processing of Puducherry. Our partnership with TERI also helped sensitize all the government departments, all bureaucratic levels, and mobilize the political will of the government."
Dr Shailly Kedia, Senior Fellow, TERI, emphasized, "We are living in a time of Polycrisis when the world is confronted by the triple challenges of planetary crises, sliding back of key sustainable development goals and the ever-growing conflict situation threatening world peace." Dr Kedia also underscored that India's G20 Presidency is at the forefront of advancing a green development pact, advocating for integrated, holistic, and balanced actions. To this end, green and climate-sensitive budgeting and instruments to promote sustainable lifestyles can be used for integrating various environmental dimensions in existing schemes and programmes.
Dr Jyotsana Goel, Thematic Lead, Centre for Budget and Governance Accountability - CBGA highlighted, "Public finance has a key role to play in defining the taxonomy and contributes towards achieving the green objectives pertaining to the climate and environmental dimensions."
Sharing her perspective on the impact of green budgeting on Environmental, Social and Governance (ESG), Ms Samriddhi, Associate Lead, CIVIC Data Lab said, "Green Budgeting can be used effectively to rank the ESG of the states with a motive of fighting towards climate change, which could be a part of framing the budgetary frameworks."
Sharing her insights on green budgeting, Ms Ghazal Hashmi, Research Associate, Asian Development Research Institute said, "The collective insight derived from green budgeting suggests that given the state's development objective of achieving a low-carbon development pathway by 2070, it can serve as a valuable instrument to bolster capabilities in pursuit of a more net-zero carbon trajectory." "Green budget has also increased the green economy," she added.
In the second session, Mr Rashmi continued guiding discussions and eliciting responses from the subject matter experts focused on LiFE- internationalizing LiFE beyond India's G20 Presidency and how the concept can be advanced through international forums like UNFCCC COPs and United Nations General Assembly.
Opening the session with Lifestyle for Environment (LiFE), Dr Sabyasachi Saha, Associate Professor, Research and Information System for Developing Countries- RIS said, "The Prime Minister's personal advocacy during the G20 India Presidency played a pivotal role in shaping the trajectory of this radical idea, ultimately leading to its adoption by the G20 in a nearly seamless and logical progression." He underscored the significance of the concept, its associated advantages, and the compelling reasons for its international adoption, all aimed at minimizing the adverse environmental impact caused by human activities.
Dr Swayamprabha Das, Associate Vice President, Development Alternatives, emphasizing the importance of an integrated and ecosystem-based approach, expressed, "It is now the opportune moment to redefine, acknowledge, and perhaps re-establish our connection with nature to achieve sustainable living and lasting sustainability. We should prioritize the '3 R's: recovery, regeneration, and reproduction, as these concepts can further anchor us to the well-being of the natural world."
Dr Debolina Kundu, Professor, National Institute of Urban Affairs, provided her insights on the imperative of embracing the LiFE concept in a comprehensive fashion. She conveyed, "LiFE envisions a shift from the prevailing use-and-dispose economic model, marked by unsustainable and detrimental consumption patterns, toward a circular economy. This transition is a significant call to action, emphasizing not only sustainable consumption but also sustainable production." The core takeaways from her session included a focus on individual behaviors, collaborative global co-creation, and drawing lessons from successful local practices.
The Dialogue, which centered on themes encompassing green budgeting and sustainable lifestyles, aimed to galvanize a resolute action-driven agenda toward sustainable development and climate-sensitive initiatives. The meaningful discussions pointed towards concrete strategies to combat climate change and advance global sustainability objectives.
To watch proceedings: https://youtu.be/hC6MGDim1rE