"Setting up TERI was something Mr Seth did for the planet," highlighted Shri RK Singh at the 22nd Darbari Seth Memorial Lecture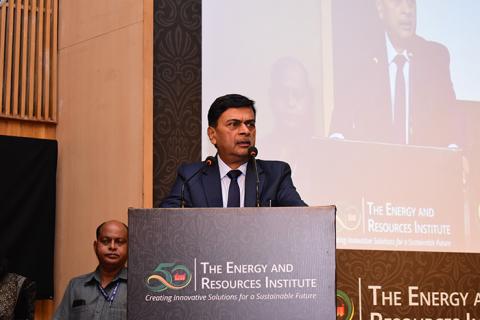 New Delhi, August 25, 2023: "TERI has earned a reputation that we can rely upon. It is one of the very few institutions around the world that is known for climate change and whose voice is heard," emphasized, Shri RK Singh, Union Minister, Ministry of Power and Ministry of New and Renewable Energy, Government of India in his Presidential Address at the 22nd Darbari Seth Memorial Lecture. The annual lecture series was initiated by TERI in 2002 in memory of TERI's founder and technocrat-industrialist Mr Darbari S Seth.
Underscoring how under Mr Seth's guidance, TERI emerged as one of the leading knowledge institutions in the field of sustainability and climate change the Minister added that at a time when many would have disputed the idea of climate change, it could only have been the genius of Mr Darbari Seth- the person and whose vision we remember today- that led to the institution of TERI.
Noting the ambitious targets that India has set for itself, the Minister highlighted the laudable progress the country has and continues to make to reduce its emission intensity and carbon footprint. "We had pledged by 2030 that 45 per cent of our capacity would come from non-fossil fuels. We have achieved that 9 years in advance. We have achieved that in 2021," the Minister said.
Delivering the 22nd Darbari Seth Memorial Lecture, Mr Siddharth Sharma, Chief Executive Officer, Tata Trusts underscored "Today, as we look back on TERI's history, we see a tapestry woven with threads of innovation, collaboration, and impact. We see a community of researchers, scientists, policymakers, and change-makers who have dedicated their lives to creating a sustainable and equitable future."
"That sustainable and equitable future envisages a just energy transition there is a crucial need for a collaborative effort on a scale possibly never seen before between the Global South and the Global North, both in terms of transfer of technology and financial flows," Mr Sharma said.
"We believe that energy, environment and equity are strongly interlinked. The genesis of the massive problems that we're now faced with on these 3Es goes back to the time when humankind began to use fossil fuels," said Mr Nitin Desai, Chairman- Governing Council, TERI remembering and quoting the wise words of Mr Seth from his remarks at the first Foundation Day lecture.
Dr Vibha Dhawan, Director General, TERI in her Vote of Thanks emphasized how Mr Seth played a crucial role in shaping TERI into an establishment that continues to showcase the potential for an alternative approach to development, focusing on sustainability and renewable energy.