G20 Declaration Reclaims Policy Space and Principles of CBDR: TERI Experts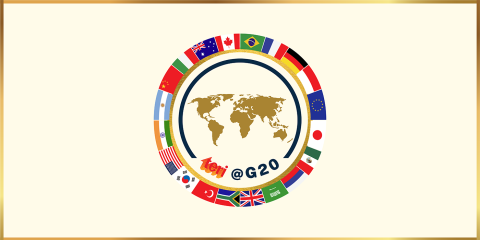 New Delhi, September 11, 2023: The Energy and Resources Institute (TERI) welcomes the G20 Leaders' New Delhi Declaration adopted by G20 countries in New Delhi on Saturday, September 9, 2023. TERI which has been active in the areas of energy, sustainable development, and climate for decades is appreciative of the leadership shown by India in its G20 Presidency. This laudable document reflects the capacity and capability of the countries to come together with actionable points for the benefit of the Global South and the world economy to chart a sustainable future.
"It is encouraging to see that the Declaration has highlighted a quantum jump from billions to trillions of dollars for climate and sustainable finance", said Dr Vibha Dhawan, Director General, TERI. "The Green Development Pact for a sustainable future, for instance, comes as a welcome move to accelerate actions on environment, energy security and climate change. Moreover, the recognition of the New Collective Quantified Goal for developed countries' assistance to developing ones, starting in 2025, is a notable inclusion. The inclusion of African Union as a permanent member of G20 is a crown jewel in the Declaration, which TERI believes, will amplify the voices of the Global South further", she added.
Noting the uniqueness of the document as being a pioneer in penning down the precise quantum of funds to address climate change and further sustainable development, Dr Prodipto Ghosh, Distinguished Fellow, TERI further stressed the importance of "Reorientating the Micro Finance Institutions mandates from poverty eradication and prosperity to poverty eradication and prosperity in a sustainable world. This will mean a significant re-orientation of multilateral development banks (MDBs) such as World Bank and Asian Development Bank to channelize resources for adaptation and mitigation as well as an increase in their capital resources".
"The Declaration commits to achieving global net-zero emissions by mid-century. Hopefully, the developed countries will recognise that they need to achieve this milestone well before 2050 as a show of intent and their commitment towards the Paris Agreement's principle of equity and common but differentiated responsibilities (CBDR) and respective capabilities, based on different national circumstances," underscored Ambassador Manjeev Singh Puri, Distinguished Fellow, TERI.
Reflecting on the G20 Declaration, Mr RR Rashmi, Distinguished Fellow, TERI, said "that the outcome positions a progressive yet balanced approach on the issues relating to climate change and energy transitions. It has been able to get G20 support for all the IPCC indicated targets related to emissions reduction in the near-term while underscoring the finance-related commitments made at the previous COPs".
The Declaration has recommitted the G20 to accelerate progress in meeting the Sustainable Development Goals through reinvigorated multilateralism. However, there is still a considerable gap to bridge, as only a mere 12% of the 169 SDG targets are on track to be met by 2030", said Mr Ajai Malhotra, Distinguished Fellow, TERI. "While the Declaration has reiterated the need for World Trade Organization reform, it rather weakly notes that the G20 remains committed to "conducting discussions" with a view to having a fully and well-functioning dispute settlement system by 2024", he added.
Underscoring the importance of the Global Biofuel Alliance (GBA) initiative, Mr Shri Prakash, Distinguished Fellow, TERI, highlighted that "the Alliance intends to expedite the global uptake of biofuels by facilitating technology advancements, intensifying the utilization of sustainable biofuels, and shaping robust standard setting and certification through the participation of a wide spectrum of stakeholders. The alliance will also act as a central repository of knowledge and an expert hub. GBA aims to serve as a catalytic platform, fostering global collaboration for the advancement and widespread adoption of biofuels".
Mr Sanjay Seth, Senior Director, TERI added that "in the sphere of urban development and financing, this declaration advances a transformative agenda, emphasizing the increasingly recognized global urban challenges and promoting measures to reduce the impact of natural disasters on cities of the future". Ms Shabnam Bassi, Director, TERI emphasised on the recognition of built environment and cities. "Through enhanced mobilisation of finances and efficient use of existing resources towards building cities of tomorrow that are inclusive, resilient, and sustainable, the Declaration highlights development of disaster and climate resilience infrastructure systems through initiatives such as Coalition for Disaster Resilient Infrastructure (CDRI)", she emphasized.
Dr Shailly Kedia, Senior Fellow, TERI, said "The Declaration bases collective actions on the G20 High Level Principles on Lifestyles for Sustainable Development as a means for significant emissions reduction by 2030 for a global net-zero future. The Declaration could have also spelt out implications of sustainable lifestyles for climate adaptation and for creating new opportunities for entrepreneurs and for jobs. As a champion on lifestyles for the environment, there is much onus on India to continue to provide normative and entrepreneurial global leadership on sustainable lifestyles and LiFE economy in the coming years. The mention of an ocean-based economy is a welcome step and G20 as a collective could further focus on specific actions in the interface of climate and ocean governance in future".
"The G20 declaration is forward-looking and comprehensive. It covers various actions and references to previous declarations. It emphasises the urgent need to universally move forward on various fronts such as sustainable development, circular economy, expand cleaner technologies including small nuclear plants, renewables, and hydrogen economy. The need for enhancing low-cost finance and availability of technologies to the developing countries is reemphasised. It is now important to see these proposed actions are implemented on ground and globally we march towards sustainable future," said Mr Shirish Garud, Senior Consultant and Energy Expert, TERI.
Mr Souvik Bhattarcharjya, Associate Director, TERI, said "The recent G20 Delhi Declaration has re-emphasized the imperative of circular economy as a driver towards achieving SDG 12 on sustainable consumption and production. A disruptive transition towards a circular economic system is possible only when all the actors across the production and consumption value chain participate productively. The provision of deepening EPR and the establishment of Resource Efficiency and Circular Economy Industry Coalition, and circular bioeconomy under the Declaration will complement existing initiatives and catalyse transition towards environmentally sound and better waste management across all economic sectors".
The G20 is a forum where the largest economies of the world come together to act cohesively and consonantly on world issues and be on one page as far as global negotiations are concerned. While the drivers of UNFCCC (United Nations Framework Convention on Climate Change) are different but the coming together of such large economies merits benefits for the Global South.