Build Back Better: Revitalizing Clean Urbanization to Drive India's Post-Covid Economic Growth
The Covid-19 pandemic has impacted the world economies in a unique and at an unprecedented scale. On the flipside, it has also given an opportunity to the economies, business and industries to rethink and respond on the type of recovery path they choose that essentially leads to minimal disruption and long-term stability. This report argues that sustainable urbanization should be front and centre of the recovery plan, in order to put the Indian economy back on a more equitable high growth pathway.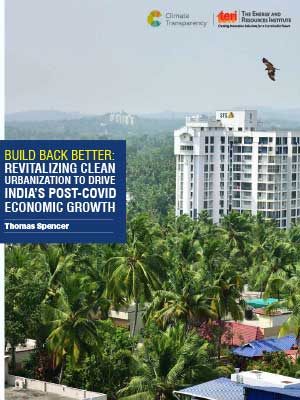 Download
Both India and China started reforming and opening up around 1978, and since then China's urbanization rate has been almost four times more than the growth in India's urbanization rate and has outperformed India in the per capita GDP growth by about five times.
This indicates that India's urbanization rate has been too low for substantial agglomeration benefits. The slow processes owing to high externalities of urbanisation have the potential to bring substantial congestion costs in terms of traffic congestion, local air pollution, space constraints, or social exclusion. In addition, this paper also highlights the importance of the revival of the construction industry, which is in turn crucial for economic recovery since it is a major driver of increased low-skill employment.
It explores three green and socially inclusive strategies to shape India's future by rolling out sustainable urbanisation:
A large-scale expansion of domestically produced electric buses, in particular to tier-2 and tier-3 cities;
accelerated clearing of the unsold inventory of real estate, in order to create incentives for future investment and revival of the construction industry, and
A large-scale programme of affordable, energy-efficient housing.