Celebrations brought together ideas and action to beat plastic pollution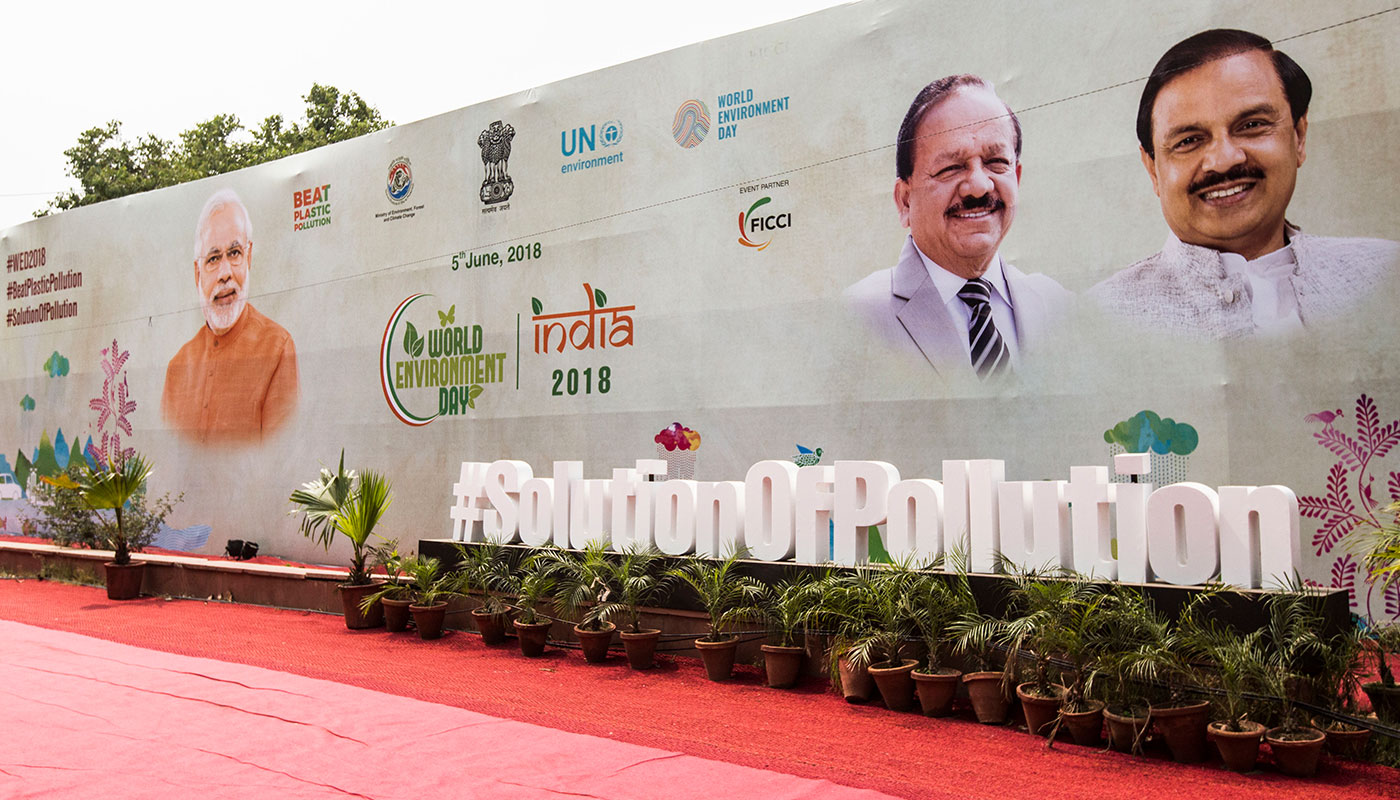 India was the host country of this year's World Environment Day. The theme of WED 2018 was 'Beat Plastic Pollution'. The week long celebrations saw a flurry of activities all over the country with many organizations coming together with the Government of India at Vigyan Bhavan (New Delhi) to exchange ideas and plans to effectively counter the menace of plastic while also discussing alternatives to it in at industrial, commercial and individual levels.
Amidst all the deliberations, TERI and many other organizations also set up exhibition stalls to showcase not just the problem but also innovative ways to address it.
Here are a few glimpses from the World Environment Day celebrations…
---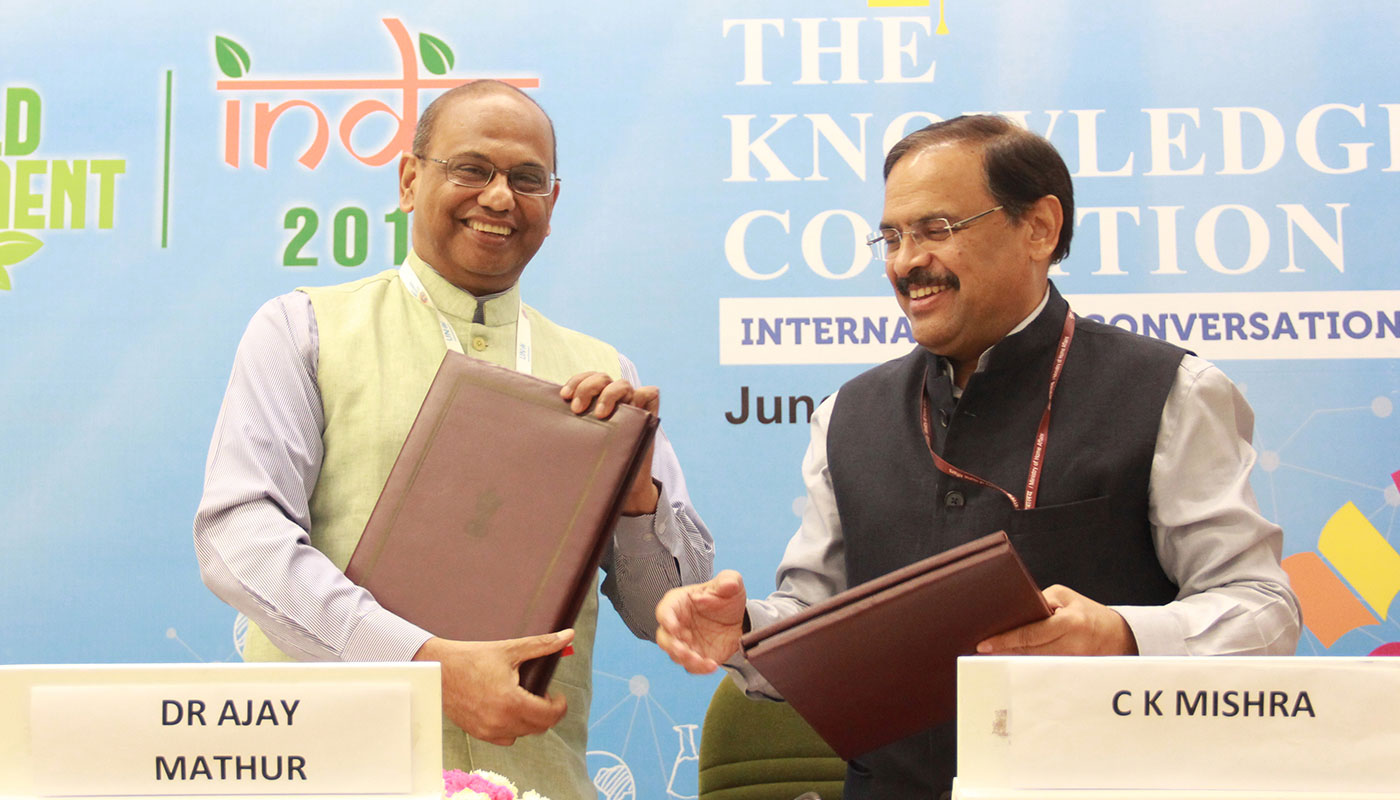 TERI and the MoEFCC entered a Memorandum of Understanding (MoU) to set up a resource efficiency cell in the Ministry aiming to provide a platform to mainstream resource efficiency in public policy as well as ensuring a 'systems' thinking based materials, products and processes.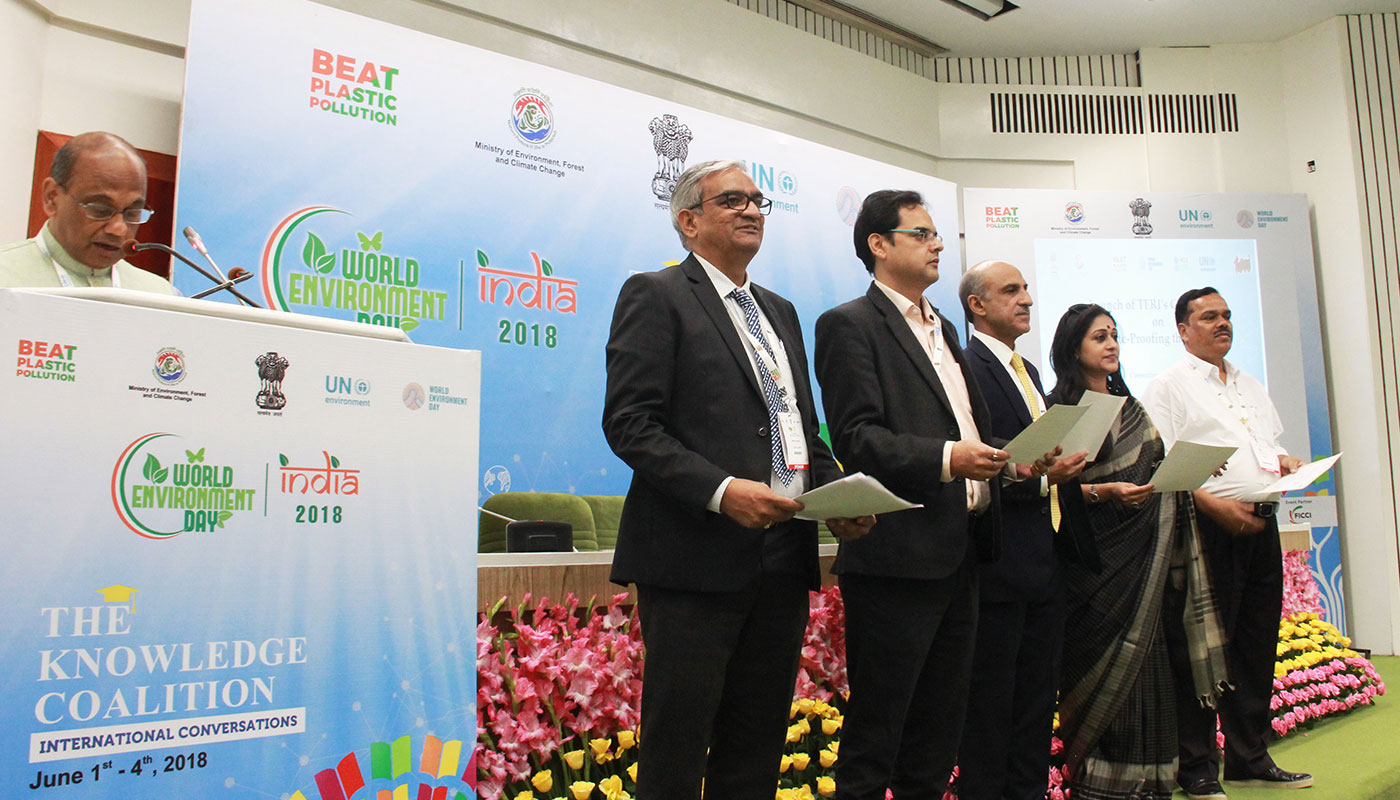 An industry consortium on 'Waste-Proofing the Future' to identify the institutional and policy interventions needed to sustainably manage waste was launched at Vigyan Bhavan. Along with launching the consortium, the 8 members (Aditya Birla Group, Mainetti India Pvt. Ltd, RED FM, KidZania India – ImagiNation Edutainment India Pvt Ltd, Dalmia (Bharat) Cement Ltd, Uflex Ltd, and DS Group of Companies) also took a pledge to recycle and reduce plastic waste.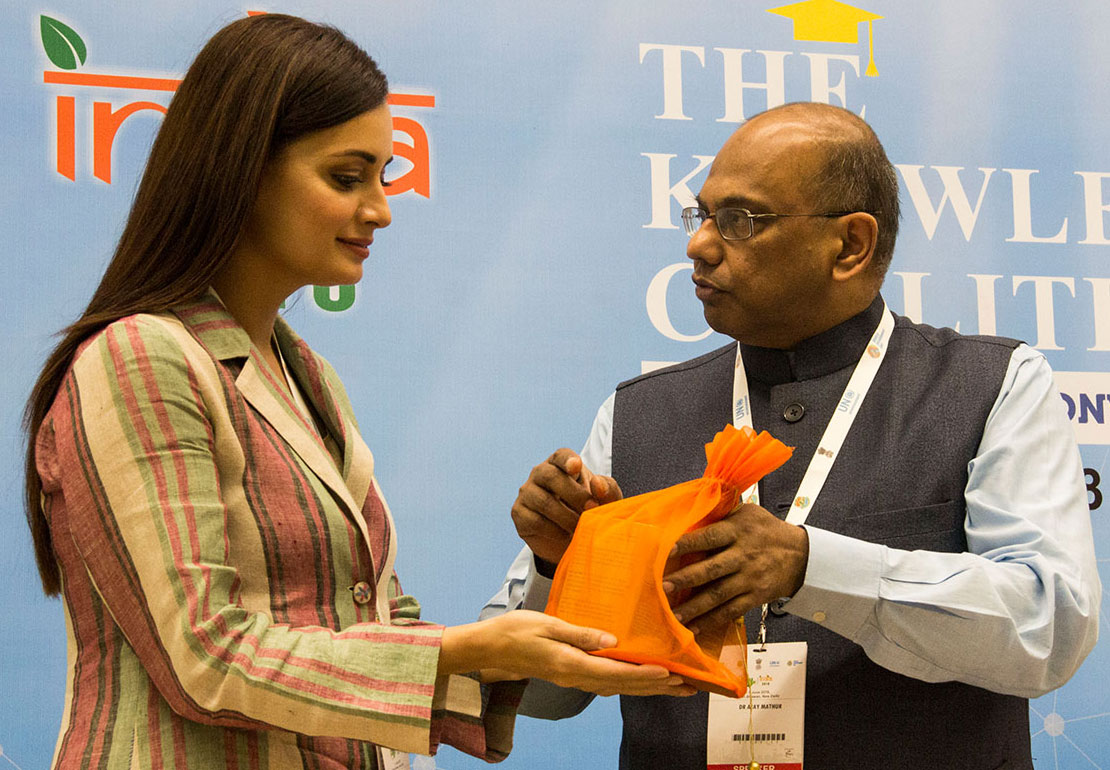 MoS Housing & Urban Affairs Shri Hardeep Singh Puri speaking at the 'Smart Cities & Urban Landscape' session alongside Dr. Ajay Mathur, Mr. Erik Solheim, Mr. Yuri Afanasiev and Ms. Dia Mirza on how India seeks to tackle the looming challenge of large scale urbanization in the coming years in an environmentally sustainable manner.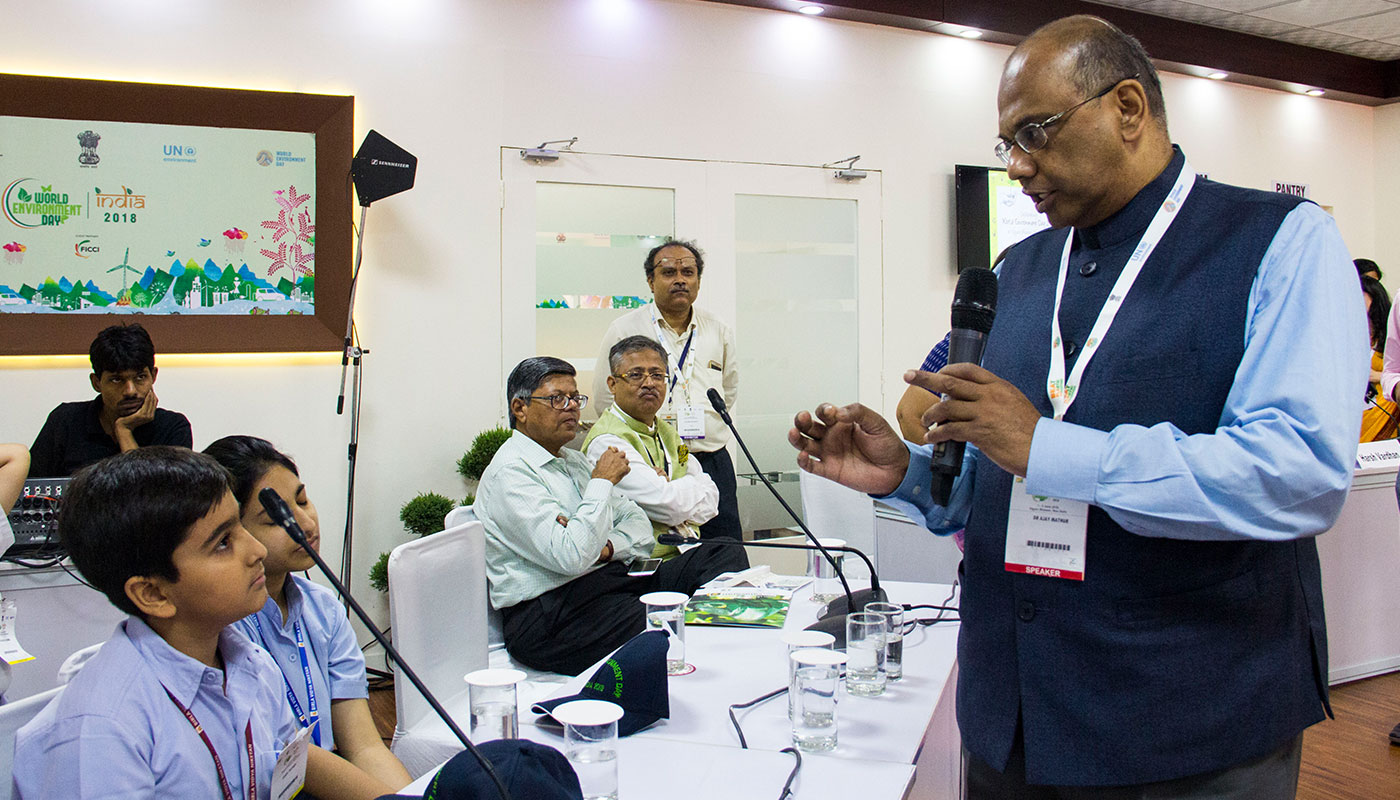 Dr. Mathur discussed plastic pollution with students from various schools in Delhi and encouraged them to become agents of change. Walking the talk, he discussed his personal step in the direction of beating plastic pollution by changing his toothbrush from a plastic one to one made from bamboo.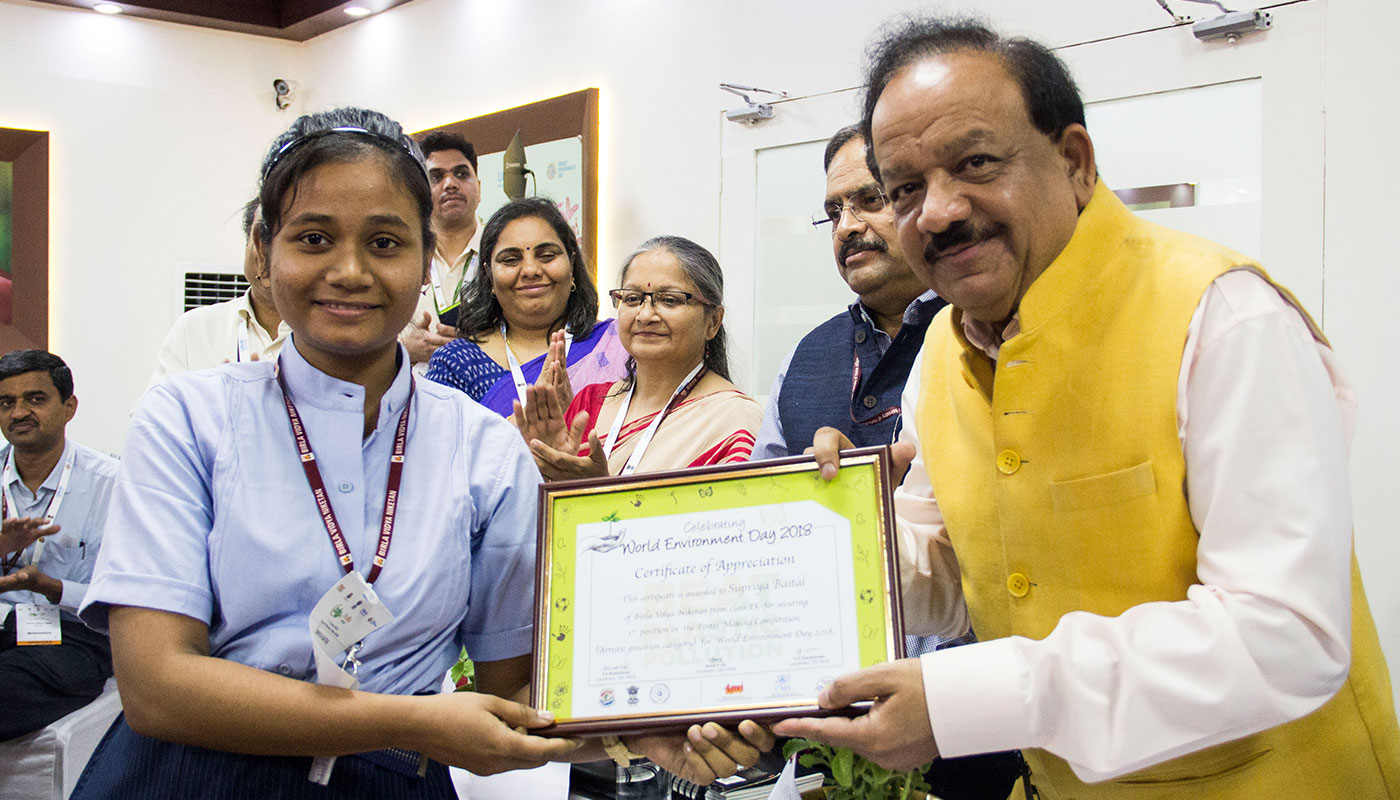 Hon'ble minister of Environment, Forest & Climate Change (GOI) Dr Harsh Vardhan awarded the winners of the EnviroQuiz contest and poster making competition.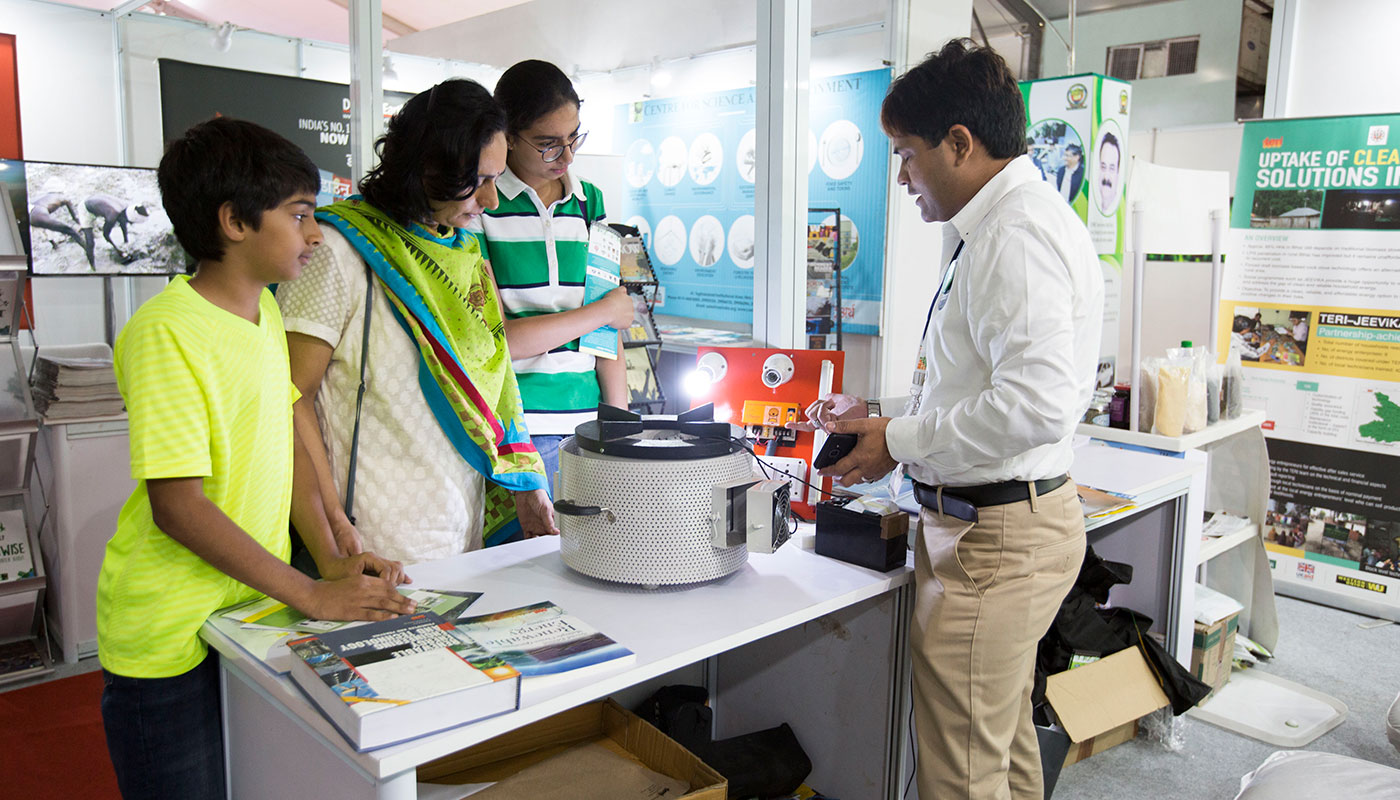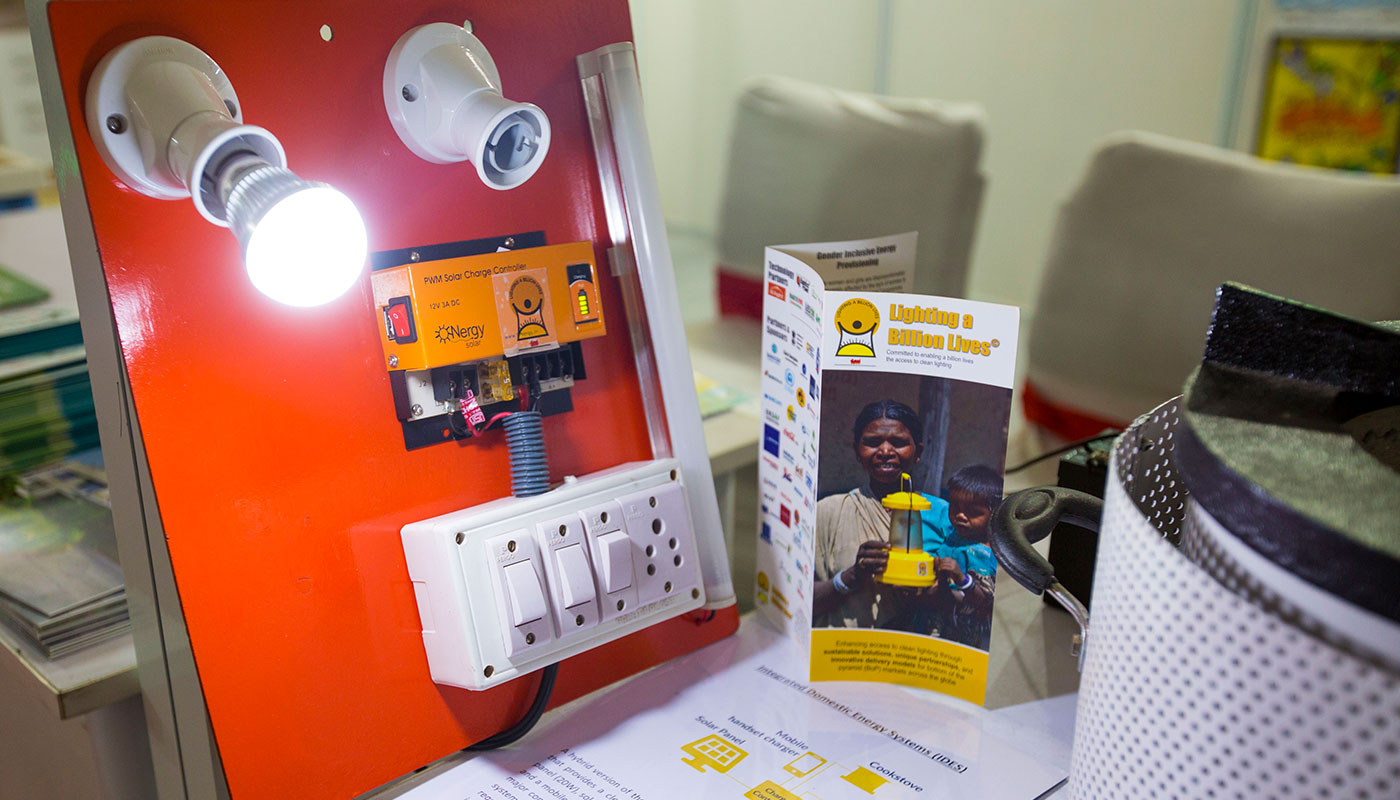 TERI's exhibition included the IDES (Integrated Domestic Energy System) which is designed to address indoor air pollution in rural households as well as problems of basic lighting. It provides not just a clean cooking solution by way of the 'forced draft improved cook stove' but also a solar panel and a solar tubular battery that charges two light points and a mobile charging facility.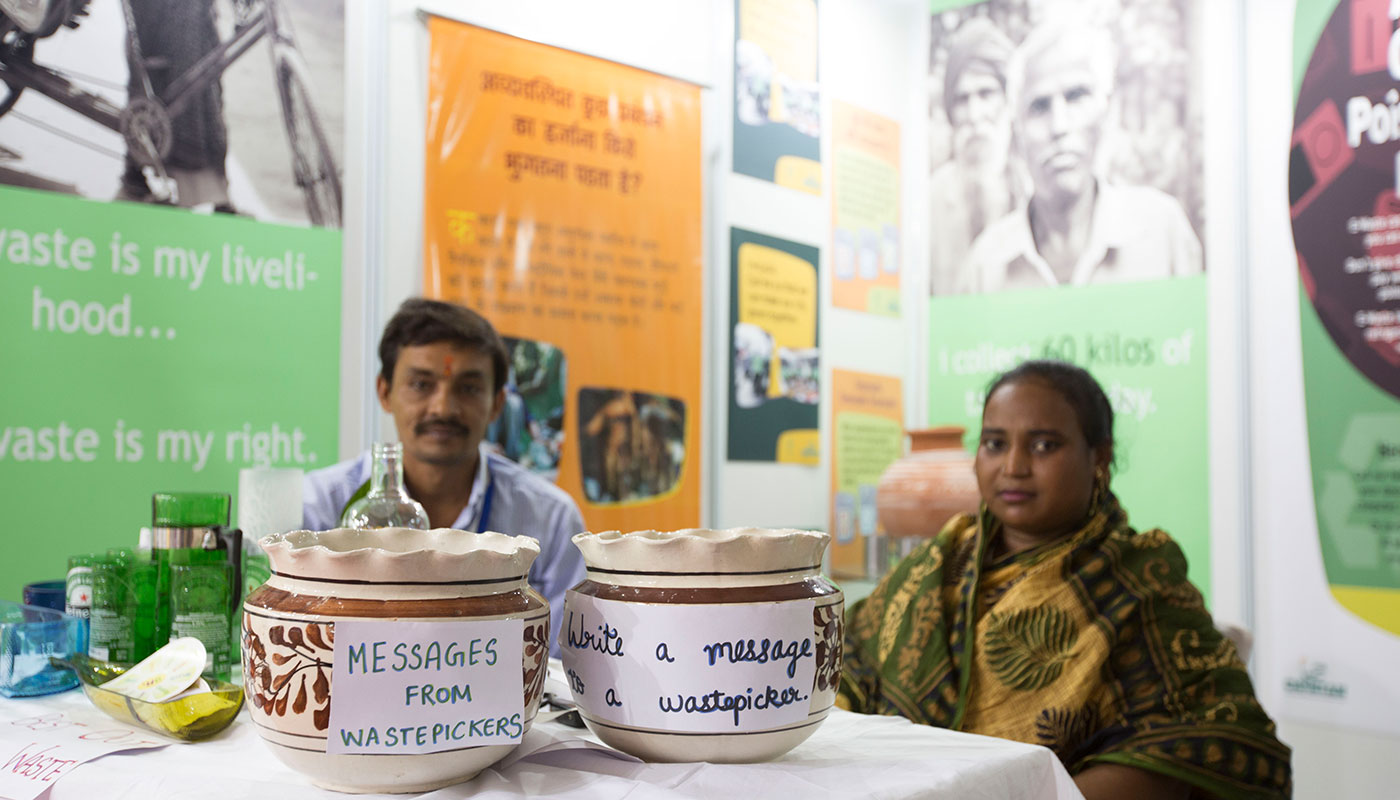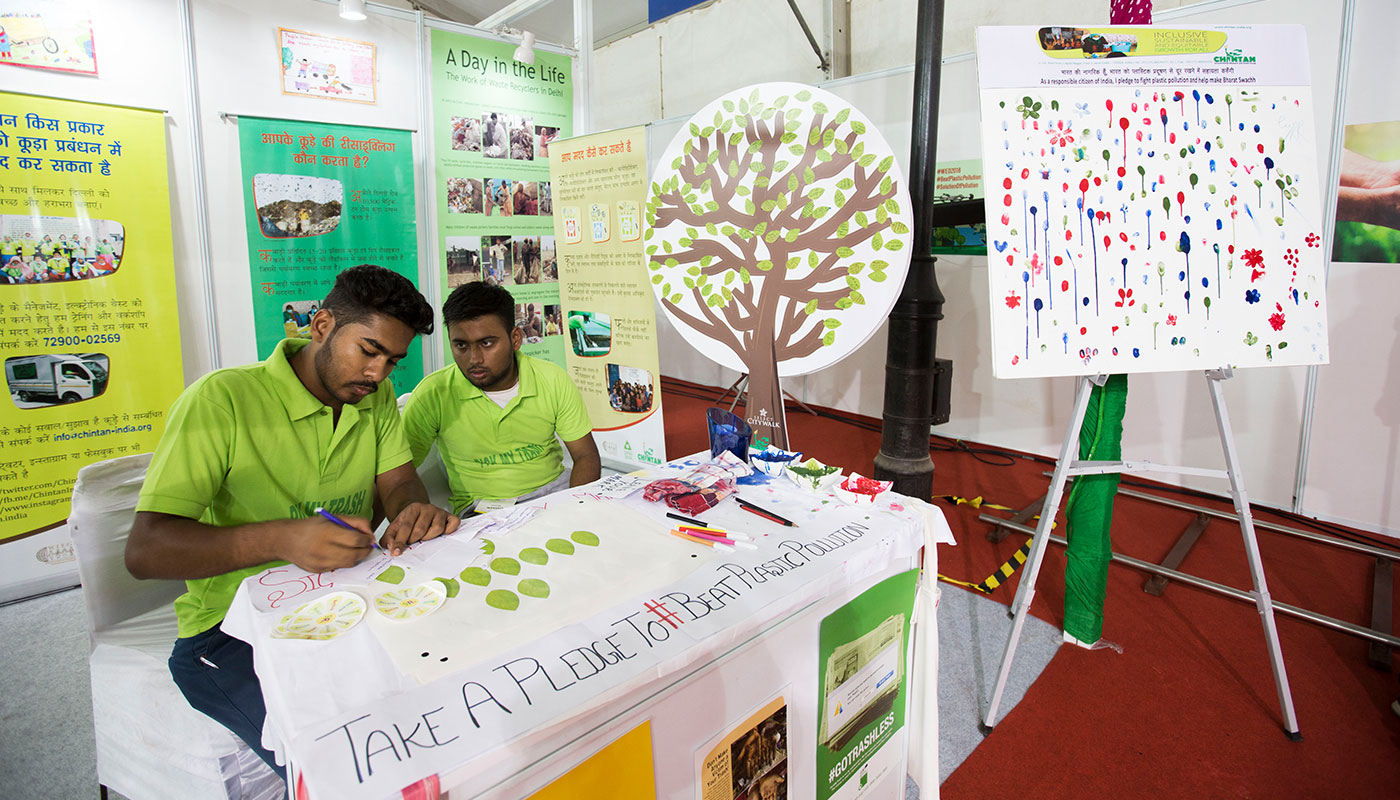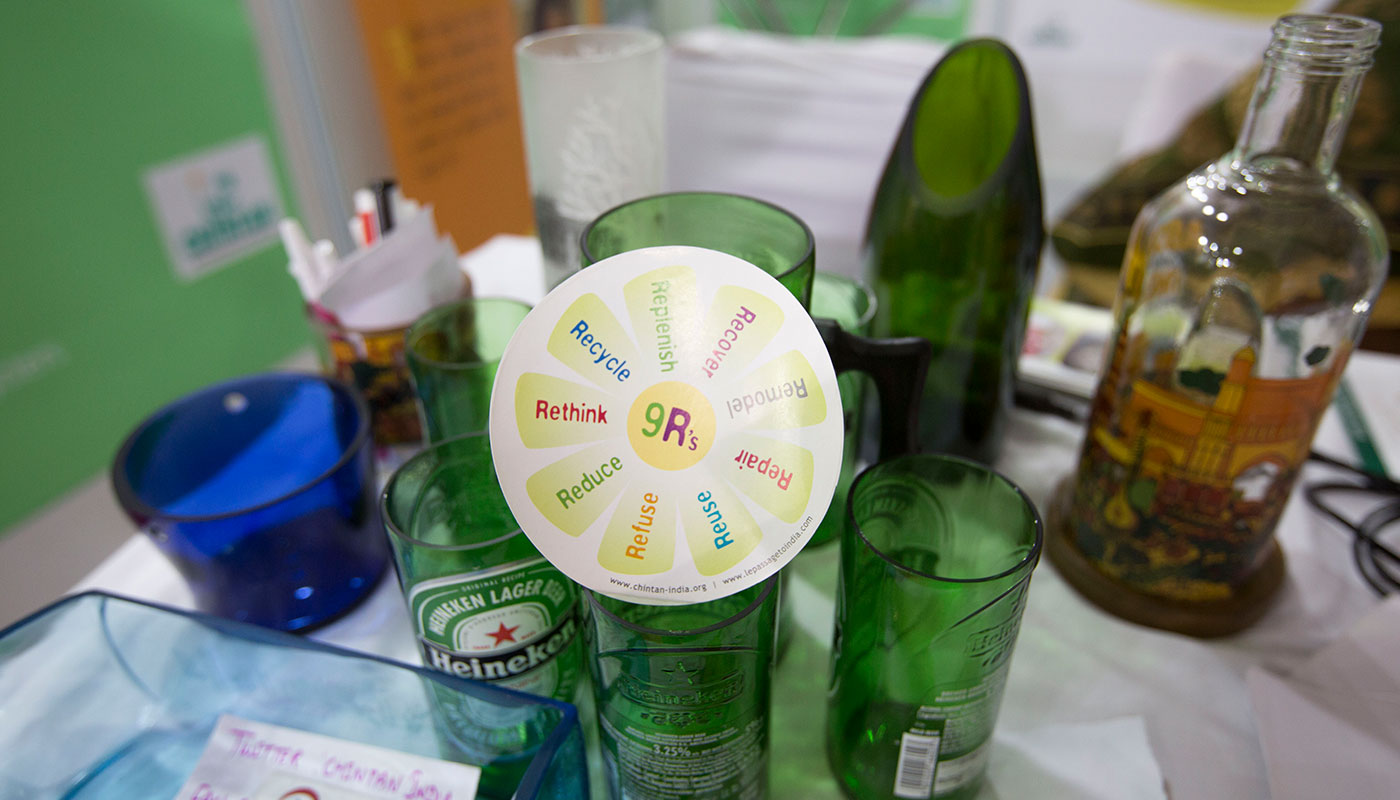 The NGO Chintan works in partnership with the informal recycling sector to address the dual concern of environmental pollution as well as the livelihood of recyclers. It facilitates green jobs including doorstep collection of trash, composting, PET bottle recycling among other things and aims for the recognition of waste recyclers as entrepreneurs.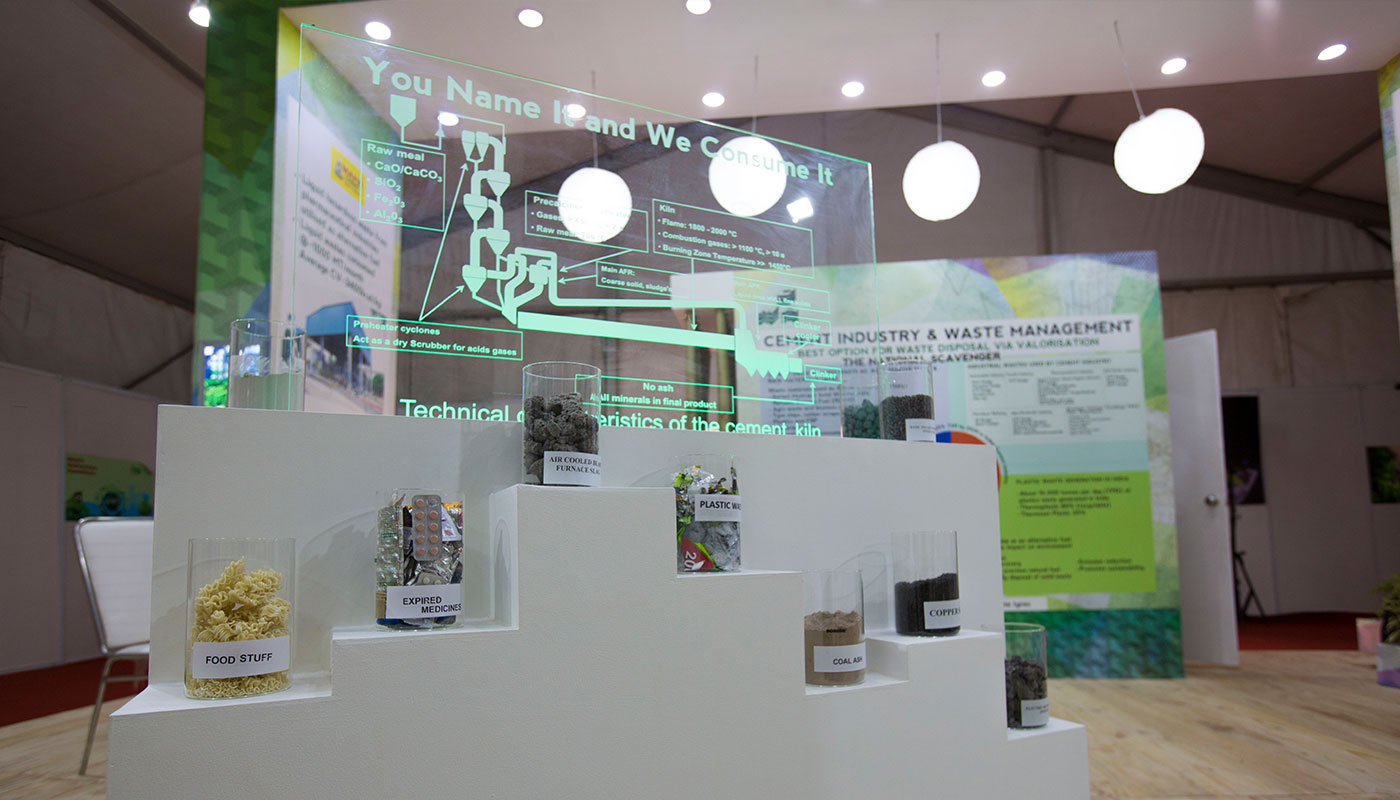 The Cement Manufacturers Association (CMA) in their stall at the exhibition displayed how the cement industry can tackle waste management by using nearly everything one can think of (from plastic waste to coal ash to even expired or rejected consumer goods like food items and medicines) as fuel for firing the cement kilns. A number of big cement corporations like JK Cement, Ultratech, Sanghi cement etc have joined this initiative.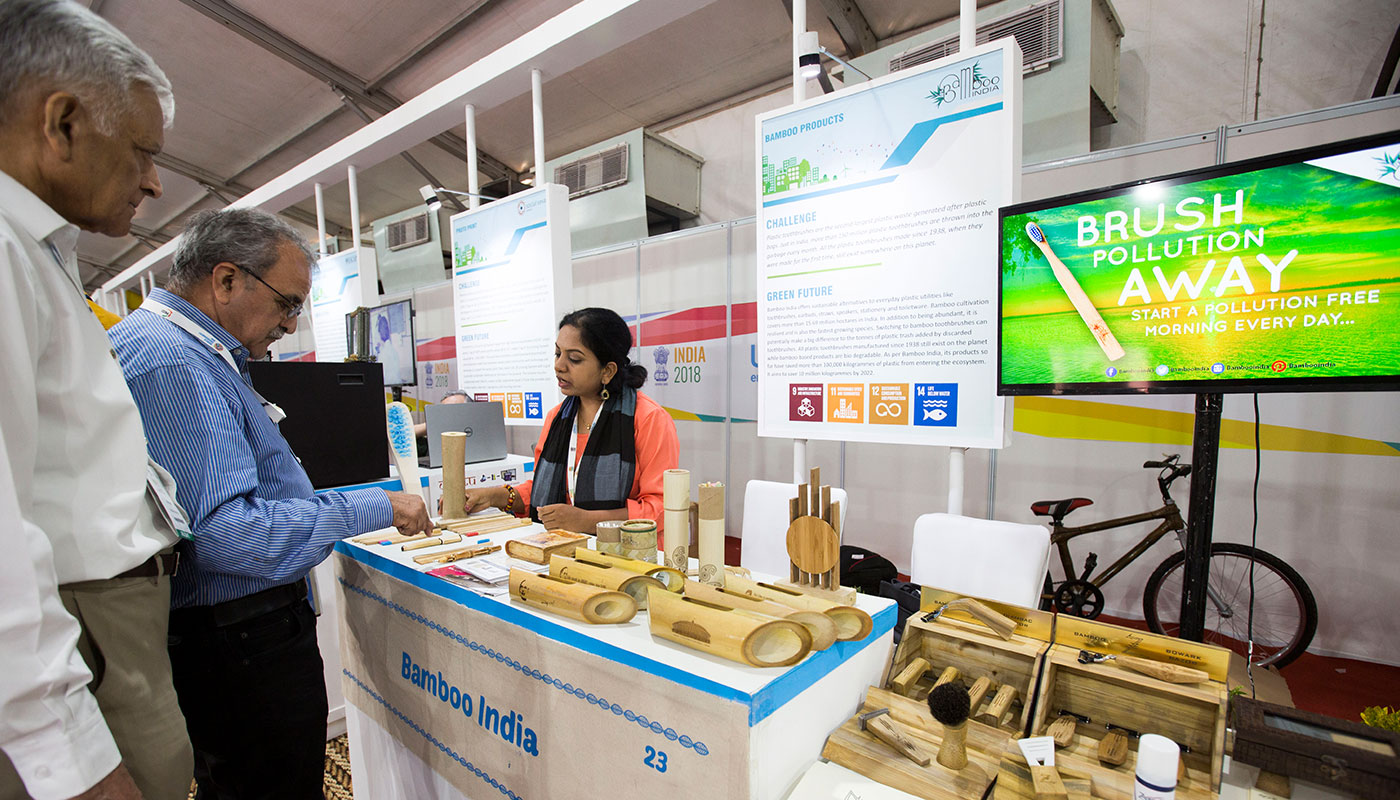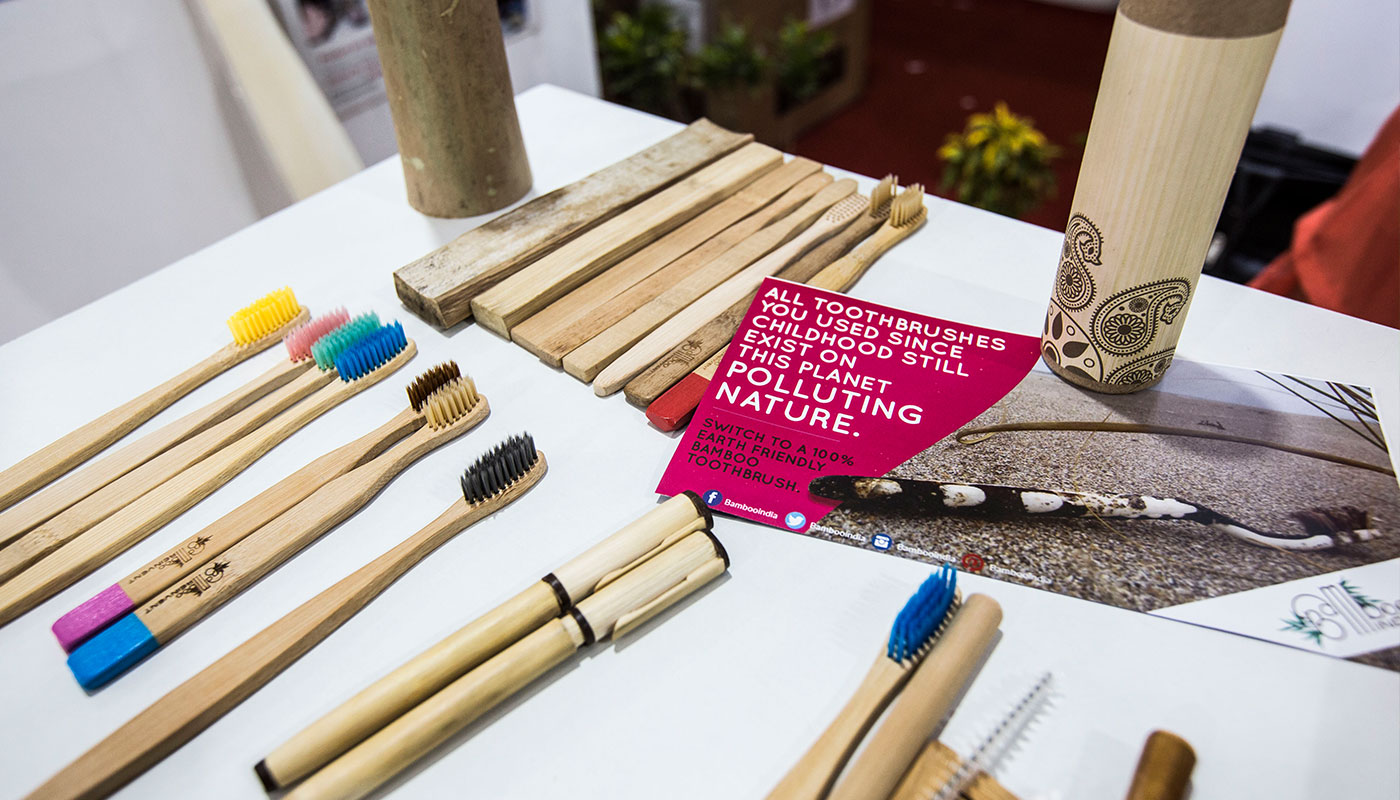 By replacing plastic with bamboo to a large extent in products like toothbrushes, shaving kits, ear buds, office organizers, pens, straws etc Bamboo India, a Pune based company, seeks to solve big problems like plastic pollution by taking small but innovative steps.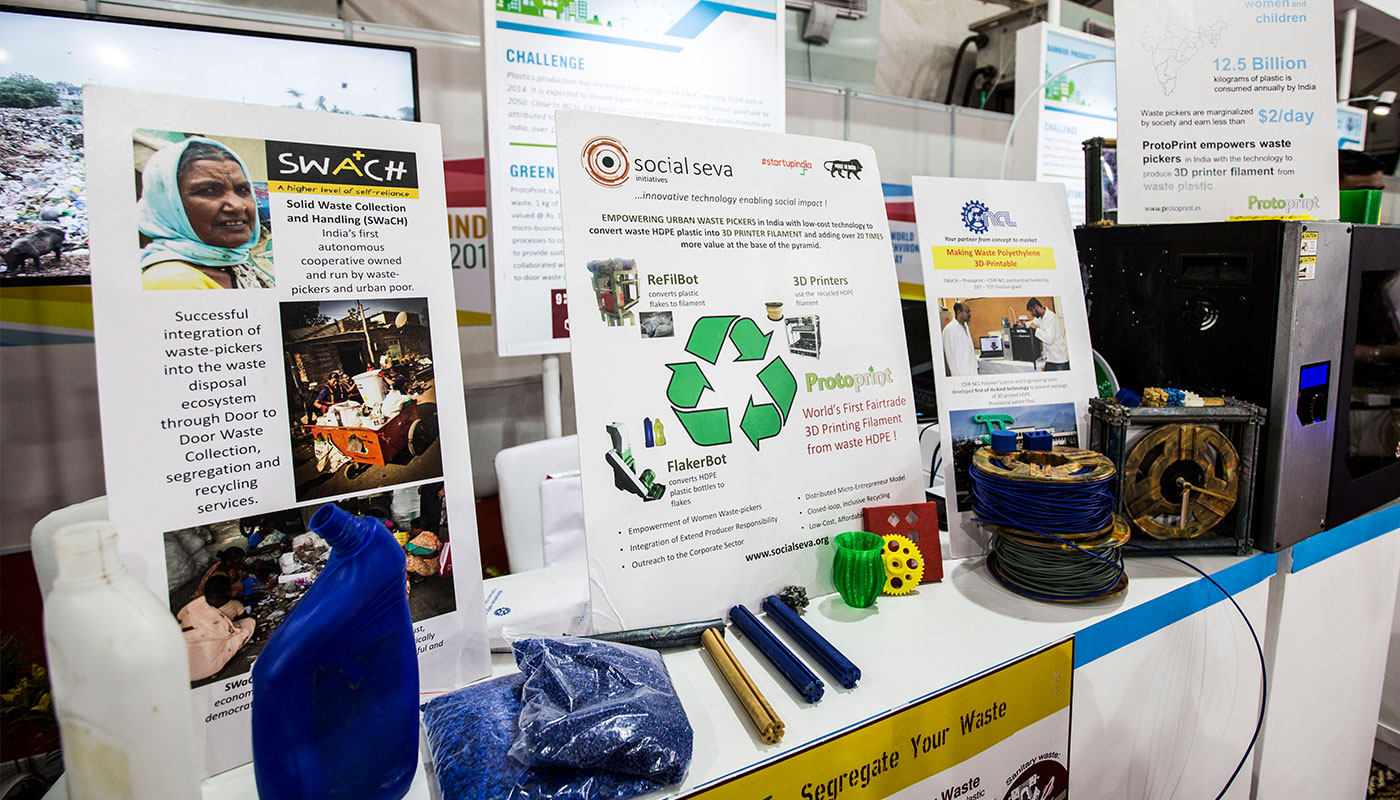 Working in partnership with an NGO called SWaCH, the National Chemical Labs and Social Seva, Protoprint seeks to empower urban waste pickers in India by providing them with a low cost technology to produce 3D printer filament from the HDPE plastic bottles and other waste polythene that they collect.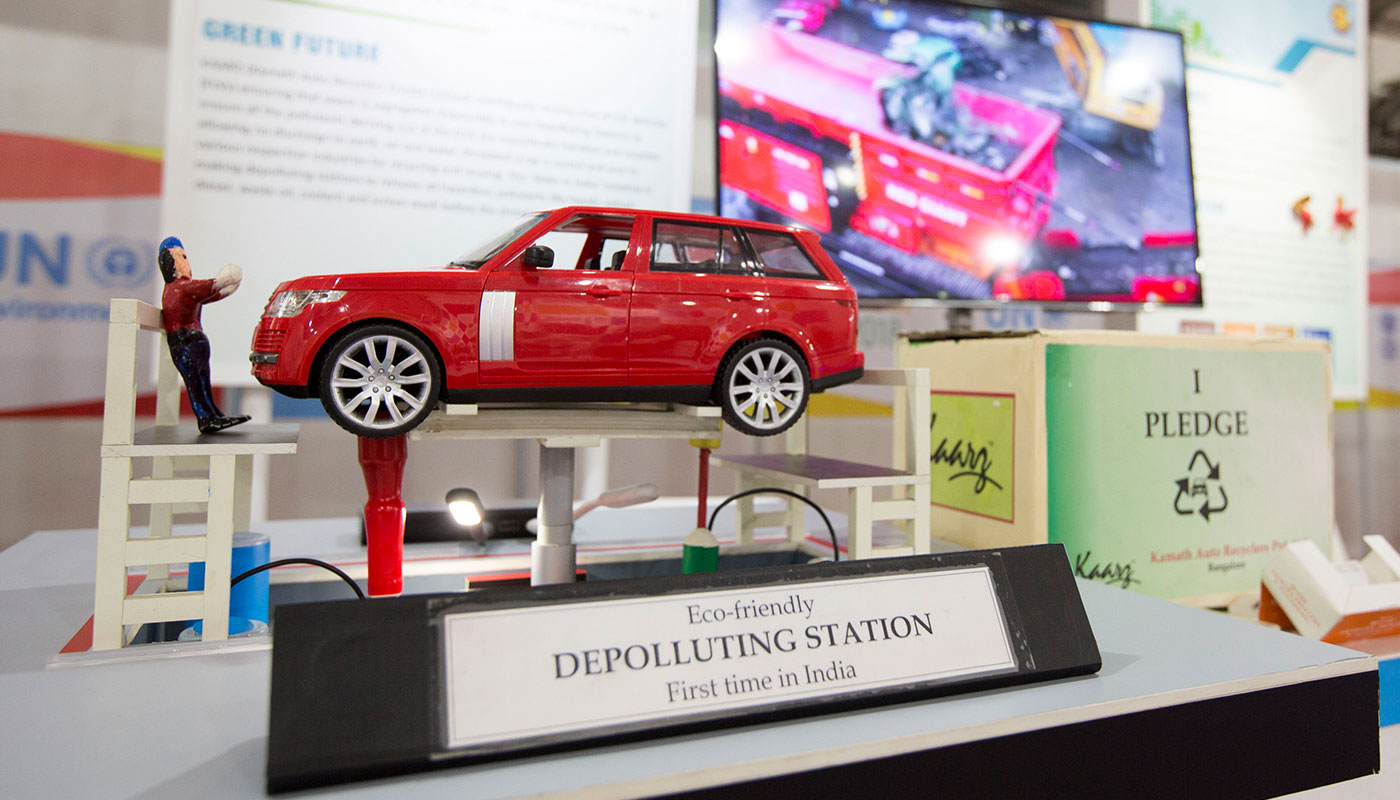 Kamath Auto Recyclers Private Limited (KAARZ) depollutes and recycles ELVs (End of Life Vehicles) in a scientific and responsible manner making sure to segregate the resultant waste. They have created Depolluting Stations and Auto Recycling Plants designed to depollute and extract recyclable resources by shredding ELVs in a manner that allows no discharge to earth, air and water. The shredded scrap is then sorted and sent to various industries for recycling and reuse.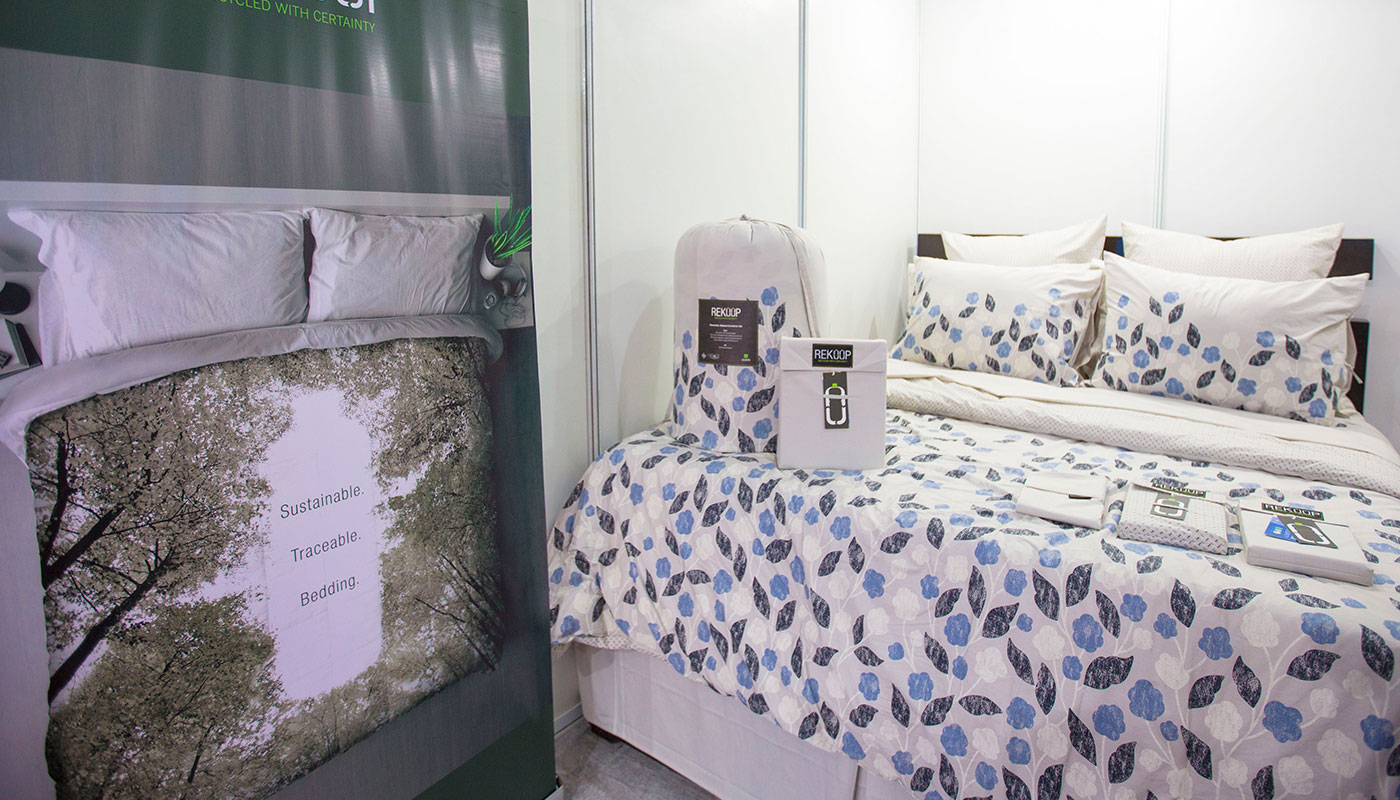 Rekoop bedding is made of PET bottles recycled into eco-friendly polyester fibre. Manufactured by Reliance Industries Limited, this fibre is blended with cotton and is free of hazardous chemicals.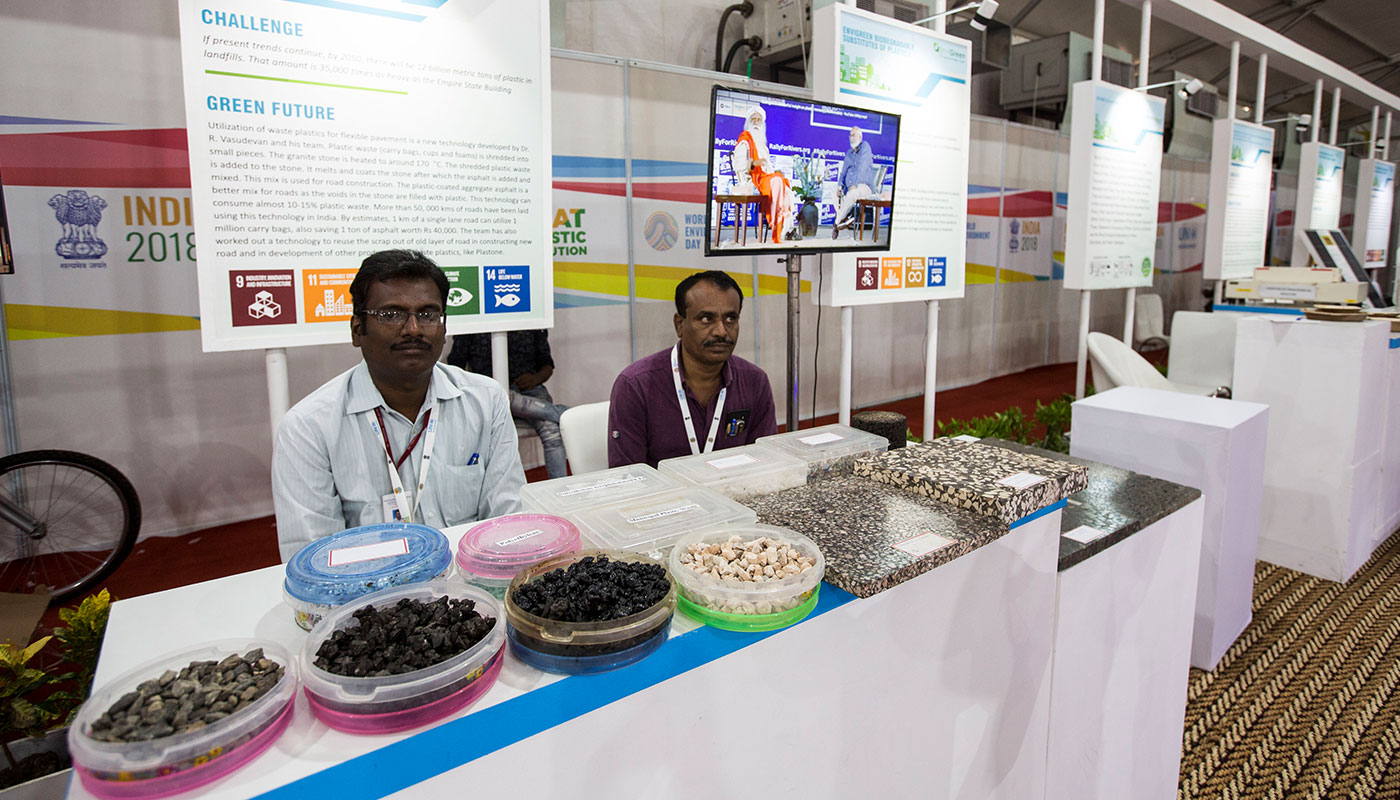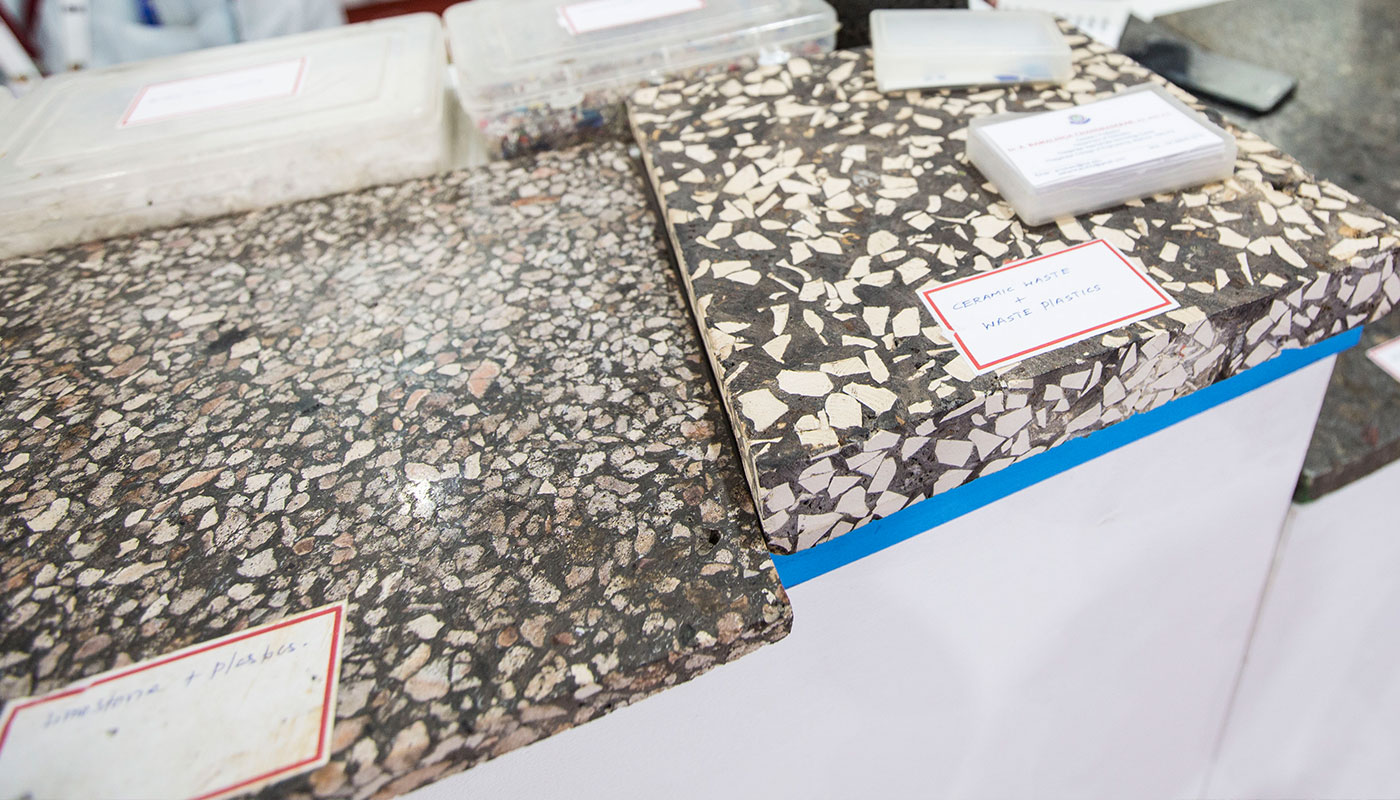 'Utilisation of waste plastics for flexible pavement' makes use of shredded plastic waste to create a mix for road construction. Capable of consuming nearly 10-15% of plastic waste, this technology, developed by Dr R. Vasudevan of Thiagarajar College of Engineering (TCE) and his team in association with ENVIS, has led to the construction of more than 50,000 km of roads.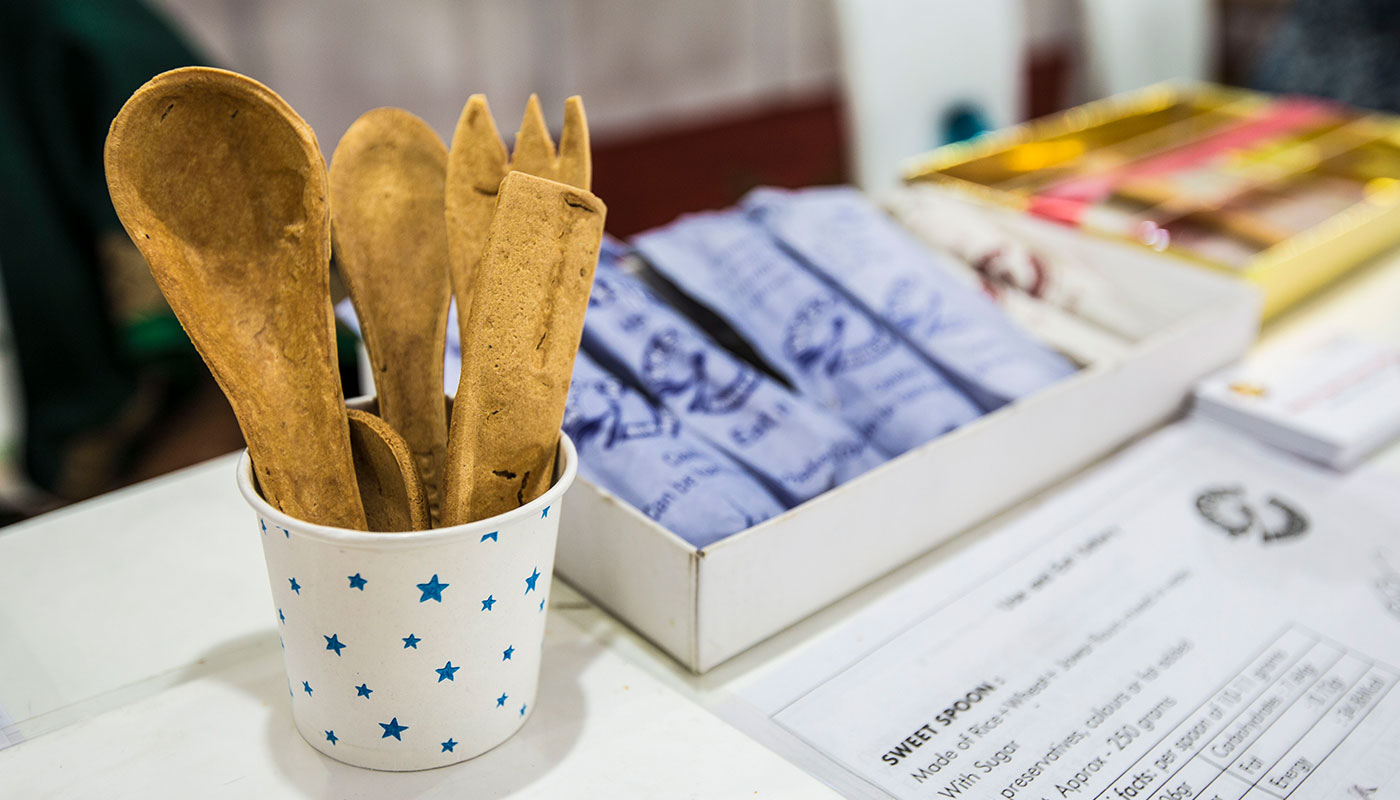 Bakey's Edible Cutlery is made of jowar, wheat and rice and has been created to be a sustainable alternative to plastic and single use disposable cutlery. The use of millets makes the cutlery not only nutritious but also more water efficient. It is organic as well because they don't make use of fertilizers of chemicals to grow millets.
WED 2018 celebration saw not just such innovative and environmentally sustainable solutions but also a number of installations and other creative measures to reach out to the visitors at the exhibition…from a sand sculpture made by Padma Shri awardee Sudarshan Pattnaik to people dressed up as Gandhiji spreading Bapu's message of cleanliness to the visitors.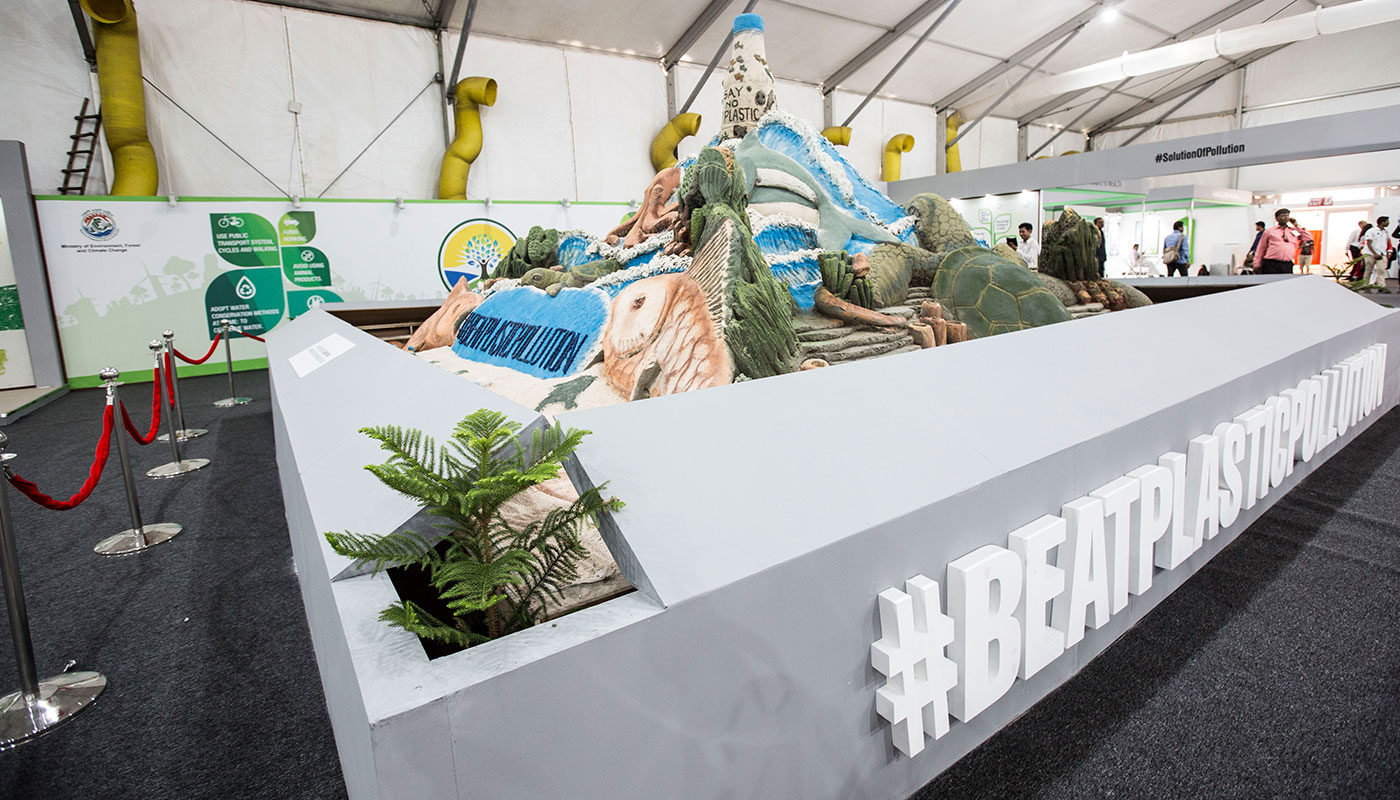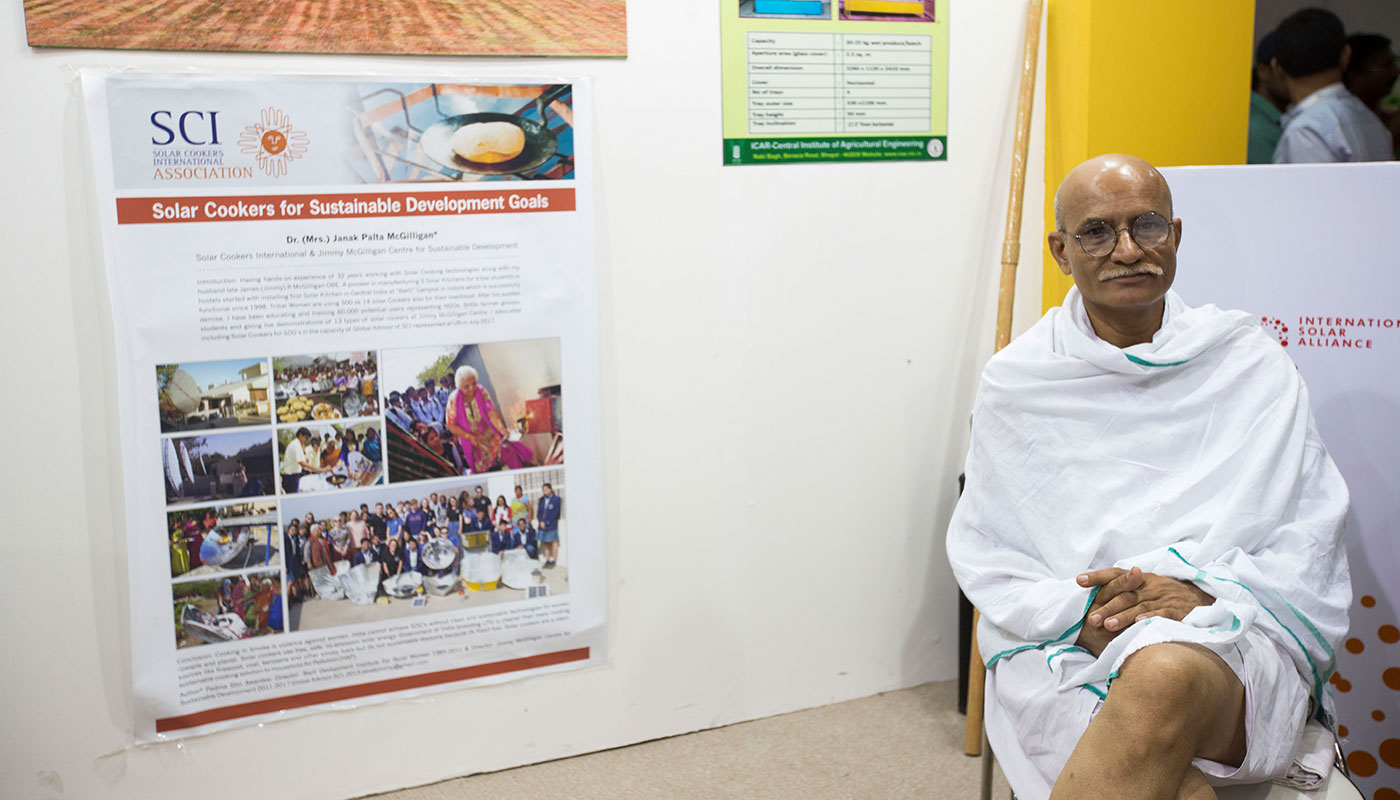 ---