Pumped Storage Plants : Key Enabler of India's energy Transition
Online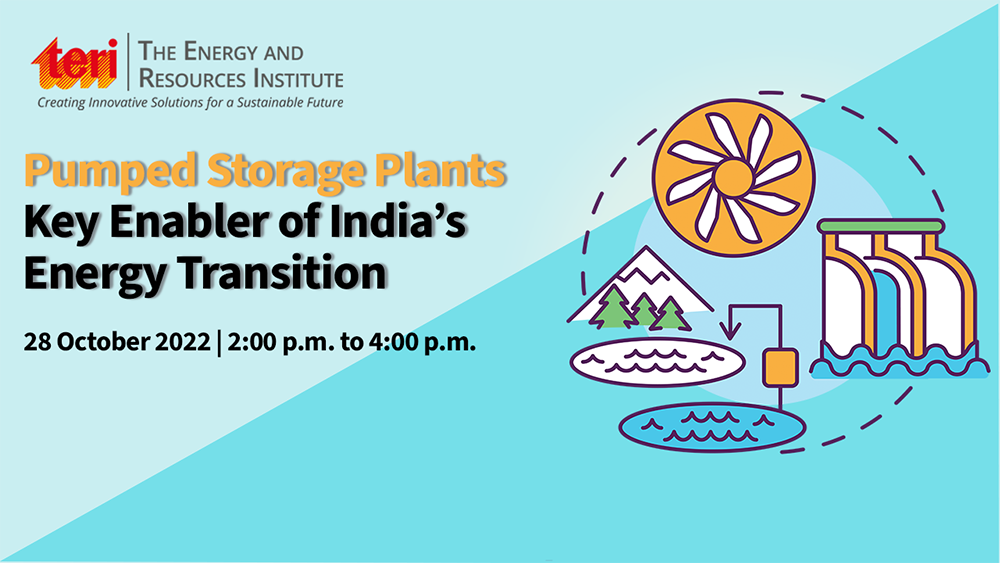 At the Glasgow COP26 meeting last year, the Hon'ble Prime Minister promised to strengthen India's climate commitments. He made five promises, and called them the 'Panchamrits.' India's new 2030 targets are the following:
India will reach its non-fossil energy capacity to 500 GW by 2030.
India will meet 50 percent of its energy requirements from renewable energy by 2030.
India will reduce the total projected carbon emissions by one billion tonnes from now onwards till 2030.
By 2030, India will reduce the carbon intensity of its economy by 45 percent.
The fifth target was achieving the net-zero goal by 2070. The announcements by our Hon'ble Prime Minister were bold and ambitious. Two of these targets were an upward revision of existing targets.
India has embarked upon a journey of achieving aggressive variable renewable energy (VRE) targets. However, there are grid integration challenges with an increase in the share of renewables. The primary challenge is of ensuring quality supply on a real-time basis – minute by minute, second by second – with a rising share of variable solar and wind generation, which is intermittent and depends on weather conditions. The power system would need to have increased flexibility. The large-scale integration of RE with an increasing share of solar and wind power can only be achieved by increasing the deployment of grid-scale energy storage. CEA estimates the optimal capacity mix by 2029– 2030 to include battery storage of 27 GW for 4 hours and PSPs of 10 GW is required to sustain the added RE into the grid. This would provide PSP with an immediate opportunity to develop so that the optimal generation mix for VREs can be expanded to meet 2030 targets.
Globally, pumped storage technology is an established, proven, and cost-effective technology for storing electricity at times of high generation and/or low demand, which can then be released into peak demand periods. The total installed capacity globally is approximately 169 GW with over 95% of electricity storage capacity. This technology is designed to time-shift electricity to periods of peak demand so that power is stored when it is least expensive and then used during peak demand when prices are highest. PSPs are ideal for meeting evening peaks as well as providing grid frequency stabilization and stability.
In light of this, TERI released a paper titled 'Roadmap to India's 2030 Decarbonization Targets' wherein we made specific recommendations to achieve the target of 500GW of non-fossil fuel energy capacity generation and it was emphasized that pump storage hydro-power technology(PSH) would play a key role.
This webinar shall focus on discussing the potential of PSH in India as well as its key challenges and issues.
Registration Link: https://register.teriin.org/webinar/webinar_register.php?w_id=V0VCSU5BUl8xODE
TERI contacts: Taruna Idnani (Project Manager- Corporate Actions, TERI CBS, Email ID: taruna.idnani@teri.res.in, Phone number: 9313298898)
Apoorva Singh (Research Associate, Electricity and Fuels Division, Email ID: apoorva.singh@teri.res.in, Phone Number: 8287180476)