Launch of e-Certificate Course on Mainstreaming Urban Climate Action
Ms Rhea Srivastava
Online
The e-certificate course aims to amplify the available science, evidence and tools on climate action by opening itself to stakeholders engaged in urban spaces.
---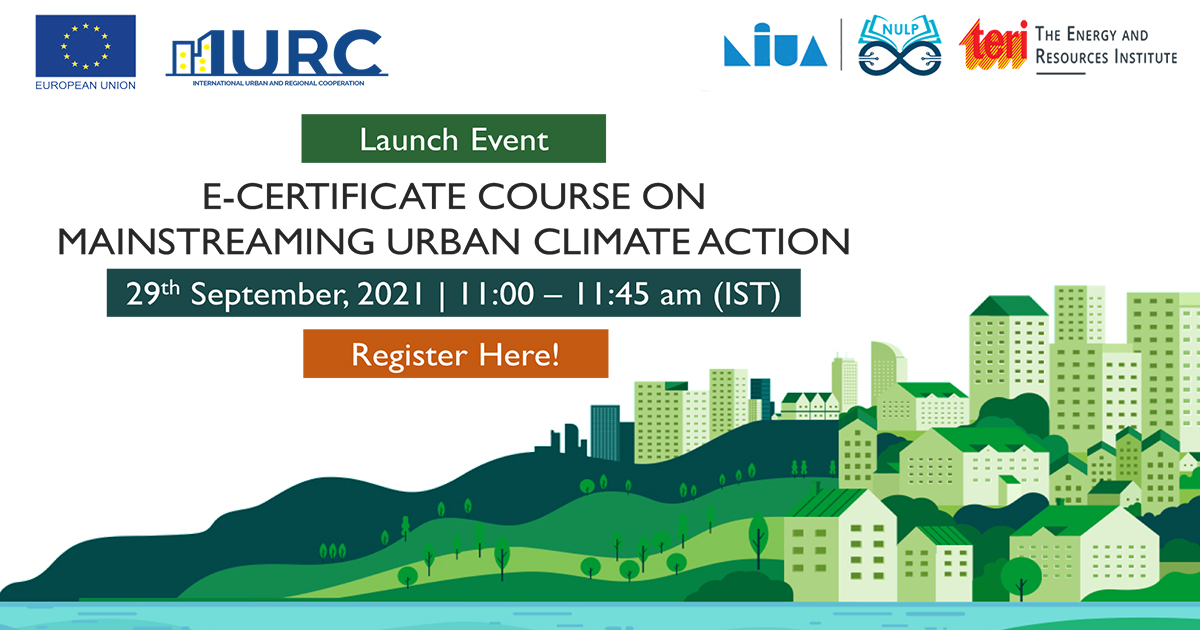 On 29 September 2021, 11:00 AM - 11:45 AM IST
The Energy and Resources Institute (TERI), in partnership with the Delegation of European Union to India (EUD India), the European Union International Urban and Regional Cooperation (IURC) programme, and National Institute of Urban Affairs (NIUA), are launching an e-Certificate Course on Mainstreaming Urban Climate Action on September 29, 2021 from 11:00 AM to 11:45 AM.
The course builds on the 4-part Webinar Series on Mainstreaming Urban Climate Action designed and delivered by TERI and the European Union International Urban Cooperation (IUC) programme in 2020 and aims to empower the audience to gauge the application of climate change knowledge in decision-making, urban policymaking, and governance processes.
As cities are both key contributors to climate change and also extremely vulnerable to its impacts, working towards mainstreaming climate action in urban planning, policy, and practice at the city level becomes crucial. Achieving this, however, requires democratisation of climate knowledge that is generally only limited to technical experts and government authorities. In this regard, the course opens itself to policy makers/analysts, city officials, youth and early career researchers engaged in the urban space to work towards strengthening and mainstreaming city-level climate action.
The self-paced e-certificate course covers the following key themes:
City-level climate change induced risks and impacts
Policy landscape for climate action
Existing assessment frameworks for climate mitigation and adaptation
Drivers for mainstreaming climate action at the city level
The e-course will be accessible on the National Urban Learning Platform (NULP) of the Ministry of Housing and Urban Affairs (MoHUA), implemented by the National Institute of Urban Affairs (NIUA).
For more information, contact Rhea Srivastava at rhea.srivastava@teri.res.in