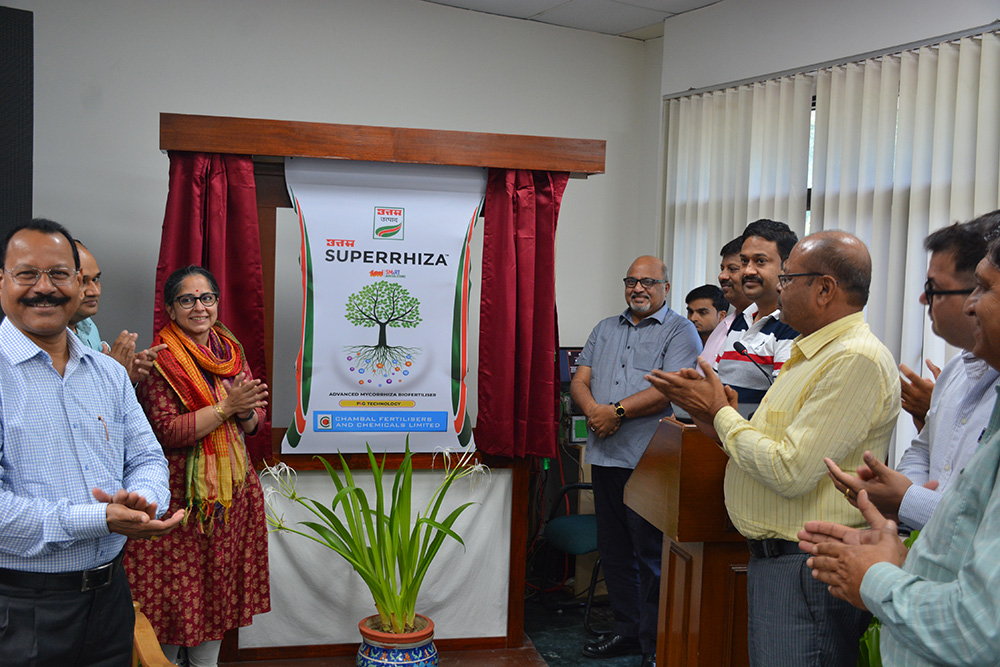 Partnering with The Energy and Resources Institute's (TERI) SMART Agrisolutions, Chambal Fertilizers and Chemicals Limited (CFCL) launched their first Mycorrhiza Product in the Mycorrhiza category of biofertilizers. The Advanced Mycorrhizal Biofertilizer product has been named- "UTTAM SUPERRHIZA".
The product was launched on July 5, 2022, at TERI's Gwal Pahari Campus in Gurugram in the presence of Dr Vibha Dhawan DG, TERI; Mr Gaurav Mathur, MD, CFCL; Mr Ashish Srivastava, VP, Sales and Marketing, CFCL; and Dr K K Sharma, Director, Sustainable Agriculture Programme, TERI.
By successfully harnessing beneficial microbial interactions in soil, TERI developed a superior and functionally advanced Mycorrhiza Biofertilizer product for Chambal Fertilizers.
Uttam Superrhiza is a unique granular product that is powered by TERI's in vitro P.E.G Technology of Performance Enhancing GreenBiologicals. This is an exceptional growth promoter technology providing native biological inputs that complement Mycorrhiza performance for synergistic effects and superior field performance.
Superrhiza is produced in a contamination-free environment and is enriched with natural mycorrhizal partner bacteria that form a biological film around the mycorrhiza. This provides Superrhiza with a unique edge over other mycorrhiza products in the market as it not only provides additional functional benefits to the product thereby making Superrhiza a truly "UTTAM" mycorrhiza product. It promises to deliver soil nutrients more effectively to a wide variety of plants, across different types of soils and respond to drastic changes in climates thereby contributing towards sustainability in agriculture and combating changing climates and environments.