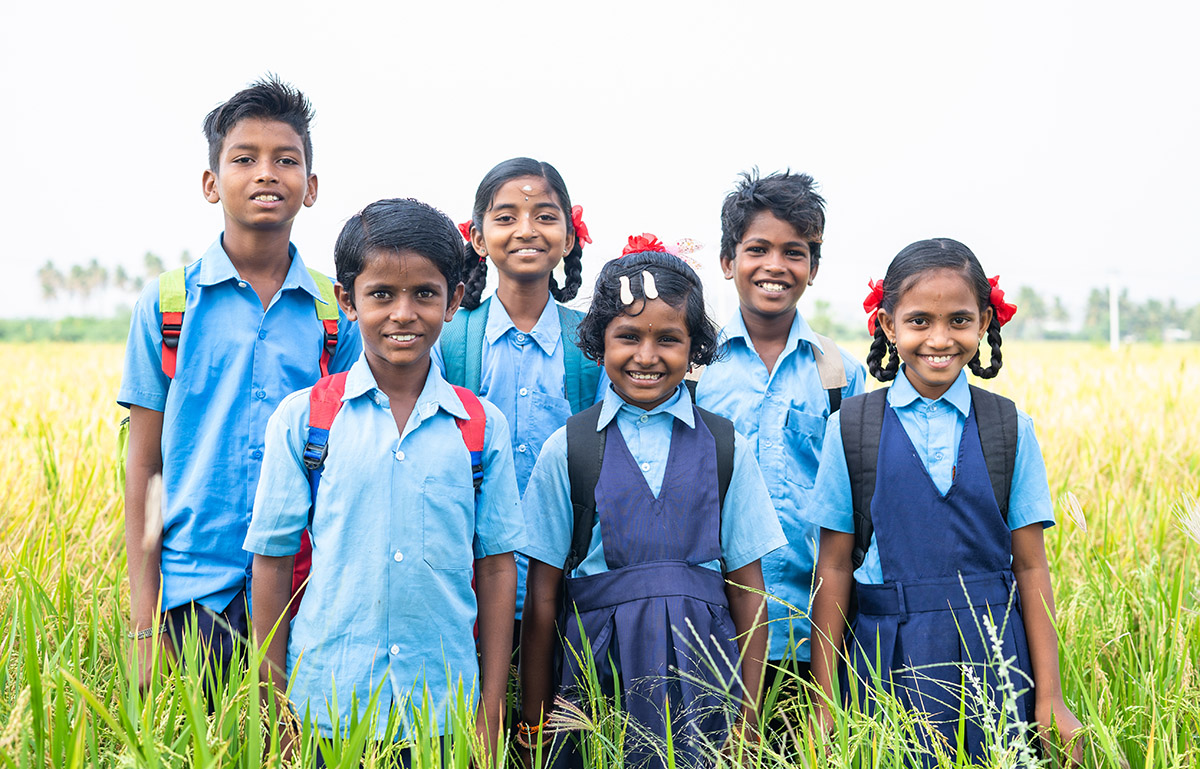 In this article, Dr Livleen K Kahlon says that acquiring green skills has become an essential requirement of our time as green skills pave the way for job opportunities that contribute to the preservation of ecosystems and biodiversity. Design of quality education and training opportunities for young people is a pre-requisite for enhanced employability under the sector of green skills. Institutions design activities and projects to meet the rising expectations of the young minds. To be able to match requirements of green jobs to be created in future, a timely investment in Education for Sustainable Development (ESD) is therefore highly recommended.
The year 2023 will be recorded as a year of many firsts. India takes over the position of world's most populous country. India is moving ahead from Chandrayaan and planning for Gaganyaan. India has assumed the G20 Presidency and will convene the G20 Leaders' Summit for the first time in the country. India also now has the highest youth population in the world, harbouring 66 per cent of the overall population under the age of 35 years. The development canvas at 76th year of India's independence is thus vibrant with exponential, political, economic, and technological growth. A burgeoning population of millennials and GenZ is force to reckon with, offering both an opportunity and a challenge. The point here is that the millennial generation measures time by the nanoseconds and hence, they are in a constant need of new products and services. Change is thus the only constant in the 21st Century. In this context, the role of youth is critically important as they are the most significant building blocks of the society, and important sources of creativity, enthusiasm, and drivers of social change. Benjamin Disraeli (British politician and author) has rightly said, "Youth of a nation are the trustees of posterity. We must prepare them for the coming hour."
Education has a major role in enhancing the preparedness of the youth to tune their skills and achievements to enter the job market of the future. As per the findings of the World Economic Forum, nearly half of employed workforce will need to reskilled by 2025. Soft skills will play a major role in retaining jobs and also be engaged in self-management through resilience, stress tolerance, and active learning. This reminds one of the state of Alice in the famous bestseller novel by Lewis Carroll, "Alice in Wonderland." "It takes all the running you can do, to keep in the same place. If you want to get somewhere else, you must run at least twice as fast as that!" The youth of today have to work harder to get out of the existential crisis to be able to engage in real progress. Getting equipped with green skills is a need of the hour, and this needs a philosophy of Unlearn, Relearn, and Learn. Green skills open up opportunities of jobs that help to protect ecosystems and biodiversity, reduce energy, materials, and water consumption through high efficiency strategies, de-carbonize the economy, and minimize or altogether avoid generation of all forms of waste and pollution.
Natural resources are being over-utilized. Climate is changing. Habitats are being altered. Biodiversity is impacted due to human actions. Need for 'development over growth' cannot be underscored. But amongst all these conditions that we cannot control, is the education system that we can orchestrate and curate as per the changing requirements. To move away from a narrative that will create eco-anxiety, anthropocene (current planetary epoch) is therefore an opportunity that supports creativity and new ideas to counter the long standing impacts of environmental and socio-economic fallouts. The ILO report also projects an increase of millions of new jobs by 2030 through the adoption of green and blue policy measures. Design of quality education and training opportunities for young people is a pre-requisite for enhanced employability under the sector of green skills. Green talent in the workforce is rising worldwide. The share of green talent increased from 9.6 per cent in 2015, to 13.3 per cent in 2021 (growth rate of 38.5 per cent). This growing hype about green skills is a blessing for the young, as it provides an early opportunity to change their academic and training trajectories to focus on competencies and skills that will make them more employable in future. A favourable ecosystem is being created by people actively acquiring new skills and pursuing new ventures, and many employers reinventing business models and creating new markets. Green skills rest on our competencies to reimagine the future of work. A speeded transformation in the availability of types of skills and jobs is a prerequisite for a greener transition.
In the above context, institutions design activities and projects to meet the rising expectations of the young minds. To be able to match requirements of green jobs to be created in future, a timely investment in Education for Sustainable Development (ESD) is therefore highly recommended. It acts as an experiential tool that facilitates learning on environment issues. It also aims to educate, empower and prepare our current generations to meet their needs using a balanced approach towards the economic, social and environmental dimensions of sustainable development.
TERI upholds a robust Environment Education and Awareness (EEA) programme with a mandate to raise awareness, enabling young people to understand their relationship with the environment and actively participate in its conservation. This aims to create a 'quality' environment that leads to improved standards of living. Started as an enabling unit under Policy Analysis Division (PAD) of TERI in 2002, this unit has transformed into a division, maintaining an intense engagement with students, teachers and youth in promoting environmental sustainability and supporting them in value-based learning for creating environmentally responsible citizenry and self-reliance in communities. Projects implemented by EEA are value-based initiatives, as the impact of any ESD (education for sustainable development) is primarily a change in lifestyle. EEA reaches out to nearly 25,000 schools and 10,000 colleges in India annually through various activities and programmes on environmental sustainability. The team comprises of ESD professionals with specializations in Social Work, Environment Science, Environment Management, Economics, Rural Marketing and Management, Political Science, Sociology, and Life Sciences.
History of Environment Education
The foundation for Environmental Education was laid in the 18th century by Jean-Jacques Rousseau the French Philosopher and Louis Agassiz a Swiss naturalist who stressed the importance of environmental awareness with education that focused on the "study of nature, not books". In the late 19th and early 20th century, environmental education was imparted using fables and moral lessons, which aimed to help students realize the importance of the environment and appreciate its natural state. Anna Botsford Comstock from Cornell University wrote the Handbook for Nature Study in 1911 to educate children on cultural values using principles of Nature. During the 1920s and 1930s, Conservation Education emerged as a new field, which was different from the earlier Nature Study as it focused primarily on a scientific approach to Nature rather than the study of its history and characteristics. The 1960s and the 1970s saw a growing awareness of the harm caused by pesticides and radiation and the rise in the air and water pollution. The concern about the health risks had risen, which further led to the growing popularity of the subject. It was understood that the greater population is required to make a difference in the environment, and active participation of the common people was possible only when it was well informed. Moving on further, in 1970 Earth Day was celebrated on April 22 for the first time. In 1972, Environment Education was declared to be a must to address the growing global environmental issues by The United Nations Educational, Scientific and Cultural Organization (UNESCO) in the UN conference held in Stockholm, Sweden. This was also known as the Stockholm Declaration. Belgrade Charter was chalked in the year 1975, which further added principles, objectives, and goals for environmental education aimed to educate the general public. This was followed by the Tbilisi Declaration in the year 1977, which "noted the unanimous accord in the important role of environmental education in the preservation and improvement of the world's environment, as well as in the sound and balanced development of the world's communities." The same year the intergovernmental conference on Environmental Education laid out various goals, objectives and principles for the improvement of this essential subject. In 2005, United Nations Decade of Education for Sustainable development (UNDESD) was formed to further encourage the growing concern towards the environment. The year 2014 saw the happening of the World Conference on ESD and a formal launch of Global Action Programme (2014–2019). Post 2019, the UNESCO has announced ESD for 2030.
Environment Education at a School Level
Environment Education in the formal educational system in India is handled at three levels. It is a composite subject called Environmental Studies (EVS) at the primary school level; it is infused into the Science and Social Science curriculum at the middle and secondary school level; and it is taught as a separate subject at the college level. Teachers play a very important role in spreading awareness about environmental problems and ensuring action. Students learn, but are helpless to overcome the frightening gap between ideas and reality and this is where the teacher's role is crucial.
Who is an Environment Educator?
An environment educator professional has the basic understanding of the theory, practice, and history of EE to build a strong base leading from what they practice and teach. They have an in-depth understanding about values, skills, and attitudes associated with environmental learning. They display abilities to learn about, evaluate, and act on environmental issues and be able to differentiate between advocacy and education. This is an upcoming profession and a one that youth can aspire for. ESD is a Higher-order thinking skills (HOTS), and its purpose is to take away the rote memorization mode, and in its place introduce amongst learners' skills related to analysis, reasoning, comprehension, application, and evaluation. Trainers should focus on action projects and demonstrate how these are linked with sustainable living. Entire teaching-learning needs to focus on activities, games, discussions, and adoption of best practices from glocal arena. Within TERI, there are several opportunities of engaging with youth to enhance their environment quotient.
S. No Sector Specific skills that are addressed through TERI's research community
1 Soft skills Leadership skills, vision building and goal setting, EQ and mindfulness, time management and advance planning, resilience and change management, conflict resolution, and team building
2 Industry-based green skills Awareness about solar, wind, geothermal, and biomass. This sector also includes traditional, non-renewable sources of energy undergoing significant green technological changes (e.g., oil, coal, gas, and nuclear), increasing energy efficiency, making energy demand response more effective, constructing 'smart grids'
3 Ecopreneurship around green skills Starts-ups to support sustainable agriculture, waste and water management, construction and manufacturing, transport, regulatory and consultancy-based occupations
Opportunities of Promoting ESD through TERI's Thematic Strengths
An enabling environment
In August 2023, University Grants Commission (UGC), the country's higher education apex body, has come out with a mandate for students to study compulsory subjects such as environmental education and climate change in order to graduate. This ruling will be effective from 2023–24 academic year and is a step towards meeting the national obligation to achieve the United Nations Sustainable Development Goals.
The course design encourages community engagement and service, practical understanding of threats to the environment and 'value-based' education to learn about environmental protection and sustainable development. According to the UGC, the proposed credits for the course can be acquired over six to eight semesters.
The way forward
India currently has 253 million students enrolled in schools and 34 million youth pursuing higher education. By 2030, these students will add up to the existing 'young' population and will be the key decision-makers in all walks of life. Hence, it is of utmost importance that their behaviour is shaped in a manner that they promote sustainable choices in decision making. TERI believes that the time to develop their mindsets and attitudes is when they are in their learning phase and can understand, experiment and act on concepts of sustainable choices. The Government of India is initiating new and novel schemes to benefit the citizens and education-based reforms have done a strong comeback. After the implementation of the National Education Policy (NEP, 2020), a scheme called PM SHRI (PM Schools for Rising India) was also launched on September 7, 2022. It supports "high-quality education in an equitable, inclusive and joyful school environment that takes care of the diverse background, multilingual needs, and different academic abilities of children and making them active participants in their own learning process as per the vision of NEP 2020".
The Energy and Resources Institute (TERI) was founded in 1974 with the mission of developing solutions to global problems in the fields of energy, environment, and sustainable development. TERI remains ahead of time when it comes to design and implement sustainability-driven solutions. But, it is clearly evident that this perfection needs to percolate to every section of society so that future workforce is made aware of contemporary environmental issues and also trained with skills that will enhance their employability. TERI's outreach initiatives are a step in this direction wherein a strong relationship has been built with schools and colleges across the country through its ESD initiatives. TERI conducts the GREEN Olympiad project (www.teriin.org/olympiad) with school students since 1999. Strong associations with the Ministry of Environment, Forest and Climate Change (MoEFCC), UNESCO, Central Board of Secondary Education (CBSE), National Council of Educational Research and Training (NCERT), Kendriya Vidyalaya Sangathan (KVS), Navodaya Vidyalaya Samiti (NVS), and other educational institutions and state educational boards are maintained through this initiative. TERI's model of operation within the sphere of school projects is with a dual approach—top down and bottom up. While GREEN Olympiad benefits from a top down strategy in terms of endorsements from major stakeholders, initiatives such as The Green School project (supported by Tata Steel Foundation), Youth Climate Conclave (supported by Delegation of the European Union to India, and GIZ), Eco Next Investigation for Youth (supported by National Council for Science & Technology, DST), Ocean Matters (supported by US Consulate General Chennai) and other projects are need based, and designed to meet locale-specific requirements. Innovative initiatives such as Green Hackathon, UNESCO Leadership Training on ESD, ViJaYo (Vidyuth Jagruthi Yojana), Climate EduXchange, SEARCH(Sensitization, Education and Awareness on Recycling for a Cleaner Habitat), Hope to Action (Bamcroft Arnesen Explore (BAE), have created inroads to touch and influence lives of millions of children and youth across the country. With NEP as a guiding principle TERI is promoting "green skills" within the education landscape