In this article, Sharada Balasubramanian highlights that a series of flames have been breaking out, year after year, at the Brahmapuram landfill in Kerala. Yet, it was not taken seriously. This year, the massive uncontrollable fire breakout urged the Kochi Corporation to take serious steps to resolve this issue as it impacted the health of people and the environment. Brahmapuram is the only landfill that is a bone of contention in Kerala, where solid waste management, otherwise is decentralized and systematic. Plans are underway to solve this crisis that the Kochi Corporation is facing after the Brahmapuram incident.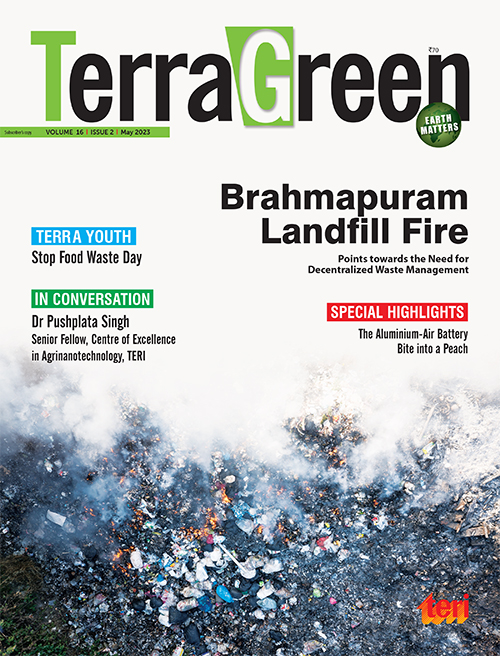 Kerala, one of the progressive states in India, laid out policies of decentralized waste management system to solve the municipal solid waste issue in the state. Centralized waste management was not favoured by the citizens. After 2012, there were mass protests from people on the 13 centralized solid waste management plants in Kerala, primarily because it affected the health of the people living in the vicinity. Waste dumping in areas including Vilappilsala, Lalur and Njeliyanparambu in Kerala was opposed by people, pushing the government to a decentralized model of waste management.
In 2014, Kerala set an example in segregating waste from the source; treating this waste in a decentralized way with a team involving the state-promoted Suchitwa Mission, the Clean Kerala Company, and the Haritha Kerala Mission (Green Kerala mission). Biodegradable waste from houses, communities, and institutions was collected by involving the people working for the green mission. For this initiative, the state received an award under the cleanliness tag in 2020. Almost 789 local bodies, including 718-gram panchayats, 72 municipalities, and 3 corporations, were involved in this initiative.
Fire Breakout in Brahmapuram
In March 2023, the massive fire breakout at Brahmapuram landfill turned out to be a major point of concern among people. The Brahmapuram plant is polluting the two rivers, Kadambrayar and Chithrapuzha, as the rivers flow through this region. Other than Kochi Corporation, waste from other areas such as Kalamassery, Aluva, Angamali, and some other panchayats is dumped here.
Spread across 70 acres, this landfill has been accumulating legacy waste (waste that is old and kept for years in the land; a dumpsite) of almost six lakh tonnes. Almost 70–80 per cent of this garbage is not segregated. The mix includes both biodegradable and non-biodegradable waste. Every day 390 tonnes of waste are dumped here, of which 64 per cent is biodegradable.
The recent fire breakout in Brahmapuram is not the first time. The first fire happened in 2013. It took six long hours to stop that. The second one happened in 2019 and was much harder to stop. Between 2018 and 2022, seven major fires happened intermittently, posing a severe risk of a disaster that could happen anytime. Fire in Brahmapuram is nothing new, say experts.
Mounting garbage woes forced the government to expand the land space from 70 to 110 acres. The land was holding more waste than its capacity. It is also important to note that Kerala has limited land space. The state is filled with lakes, water bodies, and rivers.
'Own Your Trash'
According to the Solid Waste Management Rules, 2016 from the Ministry of Environment, Forest and Climate Change (MoEFCC), Government of India, the mixed waste in Brahmapuram was not acceptable. The rules say that only non-recyclable, non-biodegradable, non-combustible wastes should be allowed to come to the landfill; this was not the case in Brahmapuram; the rules were clearly flouted. The Solid Waste Management Rules, 2016 guidelines include householders, event organizers, street vendors, gated communities, restaurants and hotels as entities that should take responsibility for segregating the waste at source and handing it over to the municipal authorities.
The usual statement from householders is 'not in my backyard'. Everything begins at the source point. At this juncture, when the world talks about sustainability, perhaps a fraction of the population can pursue this—also, experts say that asking people to switch away from plastic without the availability of an alternative resource at the same cost is challenging.
However, why citizens are not, in the least, segregating their waste is a question to moot. Also, with no incentive or action against non-segregation, or mixing of waste, individuals are contributing to this mounting problem. The shift of blame is passed entirely on the corporation and government, when the solid waste management rules clearly elucidate the need for citizens to take ownership of the trash they generate and segregate it so that it can be recycled or composted.
National Green Tribunal Slaps Fine
According to the Swachh Bharat Report (2020), India loses over 1250 hectares of useful land every year to dispose of municipal solid waste. Further, the National Green Tribunal stated that more than 10,000 hectares of usable urban land are locked up under 3159 legacy waste dumpsites in the country,
A fine of INR 100 crore was slapped on the Kochi Corporation for the Brahmapuram fire incident. A report from Livelaw mentioned that in 2018, lapses from the corporation were fined; however, the high court stayed the order.
Kerala has a Solid Waste Management Policy, which emphasizes decentralized waste treatment. The policy emphasizes on reduction, reuse, recycling, and recovery—a zero waste state phase by phase.
"Any centralized mode of waste treatment is against this policy," experts said. Sooraj Abraham, Secretary, Planatearth (Plan@Earth), a Kochi-based not-for-profit working on waste management and other environmental issues, says: "Brahmapuram is the only case of contention. Nowhere else in Kerala is there a problem with solid waste management, as everything is decentralized."
Decentralized Waste Collection in Paravur
Planatearth was one of the earliest NGOs to intervene in the waste collection space in Kerala. They started off by engaging in a clean-up activity with college students in the tourist spot Athirampally and Vazhachal in Kerala. After collecting a heap of plastic bottles, and bags, they were clueless about how and where to dispose of this. "We started contacting people for collection, but no one came forth." Realizing the magnanimity of this issue, they started campaigns such as street plays, approaching schools, and talking about this issue, but no one cared. "We realized people knew it is plastic and non-biodegradable, yet they did not bother about this issue, so we decided to take it on our shoulders," says Sooraj.
Initially, they started with a small community. People had no idea what they were talking about; there was no concept of waste segregation at source. Plastic and food waste were mixed together. They started off with the implementation of the ITC's wealth-to-waste programme in the Paravur municipality. Under this, however, only paper waste was handed over to ITC. Most of the generated waste, almost 60–70 per cent of it, was plastic. The people were paid INR 2 for a kilo of paper waste per household. This could not sustain as most of the waste was plastic. Initially, the NGO suffered losses of lakhs.
However, on the brighter side, by now, people in that municipality had practised waste segregation. So, the NGO came up with a new model that would be in tune with the new practices the people had adopted.
Success Story
Paravur, a municipality in Kerala, is full of canals and water bodies, and it was common for people to dump their waste into the water. This changed after Planatearth came into the picture. Since the waste-to-wealth programme was initiated, people have been used to the idea of segregation. They had already unlearned their old habits of mixing waste. "These are tiny municipalities with a population of 6000. We started free waste collection through resident associations with 2–3 collection points. People had just to keep the garbage clean, and we would pick it up for them," says Sooraj.
The waterways and canals were clean in Paravur. "In 2011–12, at Paravur, the municipal chairperson Valsala Prasannakumar was responsible for bringing a radical change and implementation of this model," said Sooraj. Valsala told the NGO they could now charge a collection fee of INR 10 per month per household for collecting garbage. Though the other local councillors were not in favour, she said she would do this in her ward. The public caught on to the idea; INR 10 was a minimal fee too.
The activities at Paravur municipality continued for 2–3 years. Then, the NGO was approached by Apollo Tyres to implement the same model in and around the areas they were located in under the corporate social responsibility (CSR) model.
In 2014, when Planatearth received these CSR funds, they implemented this project in Kottakara, where Apollo Tyres was located. In the first year, five wards were covered; this increased to 11 wards in the second year, 14 wards in the third year, and finally, in the fourth year, they completed all wards. The word of success started spreading soon.
This successful model was noticed by Dr K Vasuki, an IAS officer, in 2016–17. She took charge of the Suchitwa Mission in Kerala as executive director. She invited proposals from all over Kerala to tackle waste management, and the NGO's model was documented. Vasuki's efforts to make the state waste free were much talked about. In 2016, at a swearing-in ceremony of cabinet members of the Left Democratic Front (LDF), green protocols were followed. This was the first time that minimizing waste generation was a priority at a government swearing-in ceremony. The efforts from Planatearth, and their model was talked about far and wide, not just in Kerala but also in states like Himachal Pradesh. "Vasuki gave us the space to talk about our model and invited us to many places," said Sooraj.
There is a card system in waste collection, just like cards for LPG. Whenever the garbage is picked up, it is marked with a date, along with the money collected. Further, an SMS alert goes to the people as reminders so that they know the collectors will be coming to pick up the garbage. Everything was systematic.
Bottlenecks, Challenges
Though the collection was streamlined efficiently, there was a question—how and where could the plastic recycling be done? The team travelled across from Kerala to Coimbatore to Karnataka to meet recyclers. They carried a few sacks of the plastic waste they collected so that recyclers could get an idea. "This was not profitable, but there were takers for this plastic, only if the plastic was categorized and graded properly. When we sat with the recyclers, we were able to categorize the plastic into 32 grades. After doing that, we found takers, and then people wanted us," said Sooraj.
When the team spoke to Vasuki, two strong solutions emerged from the model that could be viable for implementation. The first was collection of fee, second, was the recyclers who pay for recycling. Vasuki included this model as a plan that needs to be followed in every panchayat of Kerala. This was the master plan for the state waste management in Kerala.
Things took a different shape after that. Some parts of the plan developed by Vasuki were implemented. Haritha Kerala Mission was initiated in the state. "Every corporation has a waste management plan, but it is not completely scientific," says Sooraj. A directive from the state mandates the collection of INR 50 as a user fee to collect garbage every month. Irrespective of whether people hand over garbage or not, this is a mandatory mechanism. The NGO follows the same model.
The money is used to give income to women who collect waste. Planatearth is currently working in five panchayats and two municipalities, reaching out to almost 30,000 households in the state. They are recycling 60–70 tonnes of plastic waste every month. Along with this, their operations with Apollo Tyres are running into their 8th year. From recycling the NGO also started upcycling in 2016. They made quality shopping bags from plastic, toothpaste tubes, etc.
Other Issues in Brahmapuram
Kochi Corporation has permitted other panchayats and municipalities to dump waste in Brahmapuram, and the land could not take this overload. A lot of plastic that enters the landfill cannot be managed. To add to the garbage woes, there are human health issues too. Migrant labourers from northern parts of the country and elsewhere are engaged in unorganized work, picking garbage from this landfill. They are usually engaged by a contractor.
They pick up garbage without any safety measures. The migrant labourers recover whatever they can sell immediately, such as PET bottles and broken buckets. The other waste is left on the site.
According to estimates from Planatearth, 4300 tonnes of unwanted unrecyclable plastic is left in Brahmapuram, after recovery by unorganized labour. It is 4300 tonnes per month, and by the end of the year, it is a mountain of non-recyclable plastic, which cannot be recovered just by picking it up.
"One aerosol can is all that it takes to explode and make the entire landfill burn. Spontaneous combustion can happen anytime," says Sooraj. He added that when people are working in an unorganized sector, someone could leave behind a blowing beedi, and that could catch fire.
The NGO is also working with a team of people to offer scientific solutions to this issue. The solid waste management model works well with households, but beyond it, the manufacturers have to take responsibility for the waste generated. Very little has been done on that front. The fast-moving consumer goods (FMCG) companies seem to be the biggest offenders, say experts. They need to take responsibility for waste generation, for instance, companies that manufacture diapers. Extended producer responsibility (EPR) is strict for e-waste, says Sooraj; however, that comprises just 3 per cent of the waste.
Experts say that at an industry level, nothing has been done with respect to FMCGs. However, at an individual level, there are changes in sustainable lifestyles. Sooraj says, "Many strong people have been outspoken about shifting to menstrual cups in their talks at schools and colleges. Such mass campaigns and outreach have brought a change in Kerala. The usage of sanitary napkins has drastically reduced; it is no more taboo," says Sooraj.
At the end of the day, when it comes to municipal solid waste management, only a decentralized system works. Sooraj says, "In the last 14–15 years having worked in this area, we know that nothing more than 10 tonnes can be managed by a centralized hub. Beyond 10 tonnes, waste becomes unmanageable. In houses, people can do onsite composting. A lot of people are doing this in cities like Bangalore. If the solution is given to the local people, they will take it up easily, but if it is delayed too much, they tend to lose interest",says Sooraj.
Sharada Balasubramanian is Winner: Asian Environmental Journalism Award 2019; Environmental Journalist of the Year; Environmental Story of the Year; and Prem Bhatia Award for Excellence in Environmental Reporting 2019. She is an Earth Journalism Network grantee and Fellow: UN Water, IUCN, Asia Europe Foundation. She is also DW Climate Change Reporting Fellow in South Asia. She regularly contributes articles to TerraGreen.