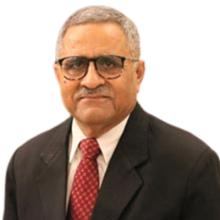 Dr Arvind Kapur
Distinguished Fellow, Sustainable Agriculture
Dr Arvind Kapur is engaged with the Sustainable Agriculture Division of The Energy and Resources Institute (TERI) as its Distinguished Fellow.
Prior to joining TERI, Dr Arvind Kapur was General Manager of Proagro- PGS, a joint venture of leading Biotechnology Company of Europe, held position of Managing Director of Nunhems India and started the operations of vegetable seeds of the Global company of Netherland, also held the position of Managing Director of Acsen HyVeg P Ltd where he started the operation of cereals in HyVeg brand and established operations.
Dr Kapur has diverse experience of over 35 years in vegetable seed sector with a thorough understanding of the agricultural trends and challenges. He has been conferred with the prestigious award from IEDRA - The Bhartiya Udyog Ratan Award in 2006 and 2015 and has many other awards and certifications to his credit.
Email: arvind.kapur@teri.res.in