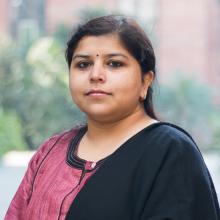 Ms Raina Singh
Area Convenor, Centre for Urban Planning and Governance
Ms Raina Singh, Area Convenor, Centre for Urban Planning and Governance, is an urban environment planner by training with more than 8 years of working experience with city governments, national and sub-national level line ministries and departments, international agencies, donor organizations, philanthropies, research institutes and networks. As part of these engagements, she has been involved in consulting assignments, policy research and advisory, and capacity building and outreach on sustainable urban development, smart city planning and building urban climate resilience in more than 20 cities in 13 states across India. As part of her affiliation with TERI, she has also contributed to implementation of various national level urban schemes and programs such as Smart Cities Mission, Atal Mission for Rejuvenation and Urban Transformation (AMRUT), Rajiv Awas Yojana (RAY), and Sustainable Urban Transport Project (SUTP). Ms Singh led the development of Smart City Proposal for Dharamshala to participate on the Smart Cities Challenge of Government of India and is currently part of TERI's Sustainability Cell for the State Government of Andhra Pradesh, wherein she is providing key technical inputs for addressing urban sustainability and climate change issues in the new Capital City of Amaravati and other urban centers of the State.
Ms Singh holds a bachelor's degree in Physical Planning and a Master's degree in Urban Environmental Planning from the School of Planning and Architecture, New Delhi wherein she was awarded a gold medal for the best post-graduate thesis in Environmental Planning for her thesis titled 'City Planning in the face of Climate Change'. Besides, she has undergone training on Climate and Disaster Risk Management in urban areas from Wageningen University, The Netherlands and under the 'City Climate Planner Program' of IFC/ the World Bank. She is an Associate Member of the Institute of Town Planners India (ITPI) and a Fellow under The Netherlands Fellowship Programme of the Dutch government. She has also been awarded TERI's Roll of Honour for 'Outstanding contribution to the growth of the organization' in 2016.
She is constantly involved in training and capacity building of policy makers, city level officials and practitioners, students and researchers on sustainable and climate resilient cities and has authored multiple articles and papers on the subject."