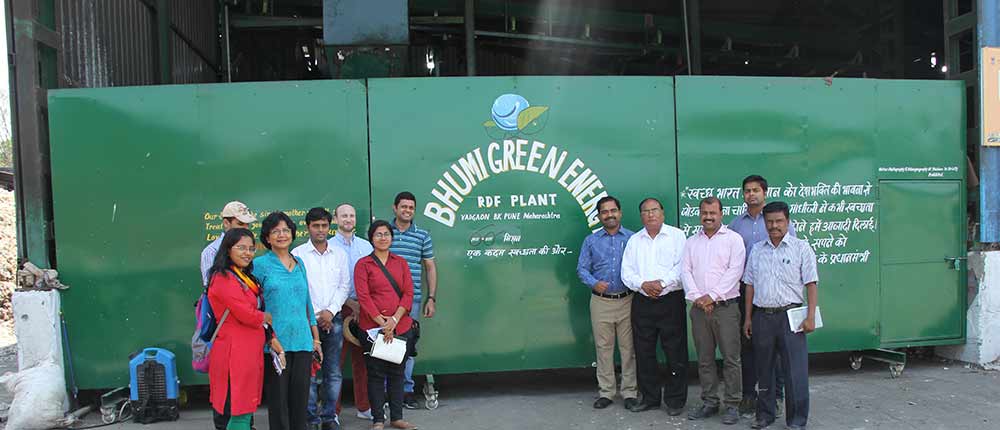 TERI recently implemented a project in partnership with Climate and Clean Air Coalition to reduce Short-Lived Climate Pollutants (SLCPs) from the municipal solid waste sector. The mandate of the project included establishing a network of six Indian cities for building capacities towards this objective.
On-site visits by research teams in select locations, Delhi and Pune, with the following objectives were made:
Promote exchange between network cities.
To showcase best practices in organic waste management in action
To help cities understand the mechanisms in which Pune and Delhi are managing their organic waste in centralized and decentralized manners.
Site visit to Delhi
The site visit to Delhi in March 2017 was attended by 29 participants including municipal officials from different Indian cities and domestic and international experts in waste management and the CCAC MSWI. There were 10 Municipal Officials from six different cities (Delhi - 3, Mumbai - 1, Chennai - 2, Coimbatore - 1, Kolkata - 2, Pune - 1).
Participants visited the IL&FS Compost Plant in the Okhla area of Delhi. The Okhla compost plant was set up on Public Private Partnership (PPP) framework in association with the Municipal Corporation of Delhi (MCD). Today, the plant processes 500 tons of MSW each day and produces 75 TPD of organic compost which is compliant to the Fertilizer Control Order (FCO). The plant focuses on quality and refinement, ensuring removal of interts and other unwanted material.
The processes in which plant operates and produces compost were briefly shared by plant management team. The experts accompanying the visit also gave their recommendation to plant operators to improve the management practices.
The visit was useful for participants to understand the centralised organic waste management facilities in Delhi.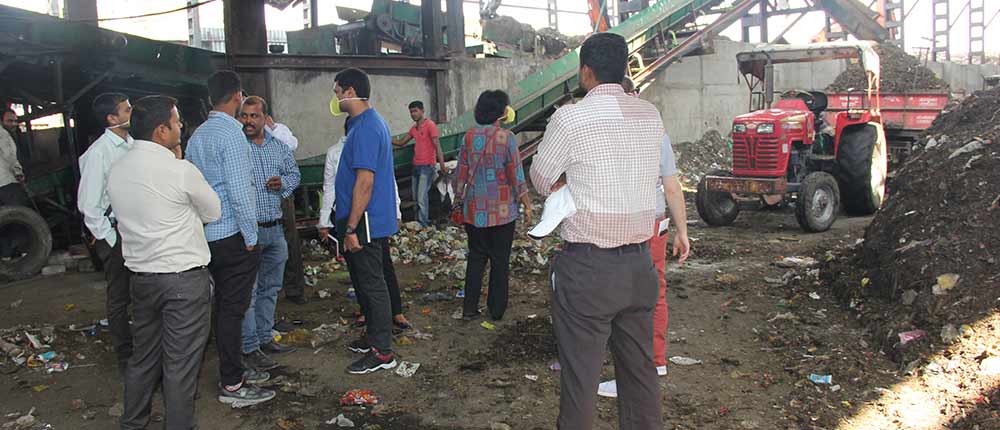 Site visit to Pune
The site visit in Pune in March 2018 was attended by 14 participants including municipal officials from different Indian network cities, USEPA and CCAC waste initiative team. There were 10 Municipal officials from 4 different cities (Delhi - 2, Mumbai -2, Chennai- 2, Pune- 4).
The visit to Pune comprised five waste treatment facilities as under:
19 March 2018

Bhoomi greens, 225 TPD compost plant, Hadapsar industrial estate, Pune
2 x 5 TPD Bio-methanation Plant, Taljai, Pune

20 March 2018

5 TPD Bio-methanation Plant, Aundh, Pune
2 TPD Mechanical Compost Unit, Aundh, Pune

125 TPD RDF processing plant Pandurang Industrial Area, Nanded, Pune
The visit showcased technologies like windrow composting of green waste, bio-methanation and use of biogas for street lighting based in conventional digesters and UASB technologies at two different plants, use of mechanical composting machines reducing land requirements with 15 days retention time and finally a refuse derived fuel facility segregating mixed waste to deliver fuel, organic waste for composting and inert for disposal.
Besides these technologies the mechanisms of operations these decentralised units and financial mechanism which Pune Municipal Corporation applies to run these plants was also shared with all participants.
A presentation from PMC outlining their waste management practices, decentralised treatment units and technologies adopted by them was also shared with all participants. The visit also provided a platform for all participating network cities to build storming network and share their best practices with each other.
The site visits provided a platform to exchange practices for centralised and decentralised waste management in the two cities of Delhi and Pune. Opportunities for cross learning's between participating cities in terms of best practices and challenges were also interchanged. The cities also learned the model Pune applies for waste segregation and decentralised waste to energy utilisation and odour management in their treatment plants.
However, there were certainly areas in terms of tipping fees mechanism for operators, and compost marketing, in which other cities were able to perform better.